Today quite a few of the Surface Duo's specifications were revealed in a major leak, starting with processor, ending with RAM – and Android, of course. This device was first revealed by Microsoft as a dual-screen book-like Android machine of sorts, back at a Surface event in October of the year 2019. It was one of two new oddities the company showed as "one more thing" sort of reveals. The other was called Surface Neo.
The Surface Duo and Surface Neo are very different machines. The Surface Neo will likely run Windows 10X, while the Surface Duo is destined to run Android. Fast forward to May of 2020, and we appear to have a leak from Windows Central that spills all the beans. Included in that leak are enough details to basically fill out our whole list of specifications for the device – also sourced from leaks (from the past few months).
The Microsoft Surface Duo's pair of displays will apparently be 5.6-inches each, both with 4:3 aspect ratio and 1800 x 1350 pixels each. Both displays will have 401 pixels per inch, and both will work with AMOLED display panel tech, which means they'll be extremely bright and colorful.
This device's system-on-chip will most likely be the Qualcomm Snapdragon 855 at launch. It's suggested that the device will launch with at least one configuration that includes 6GB RAM. There'll likely be two configurations (at least), one with 64GB internal storage, the other with 256GB internal storage.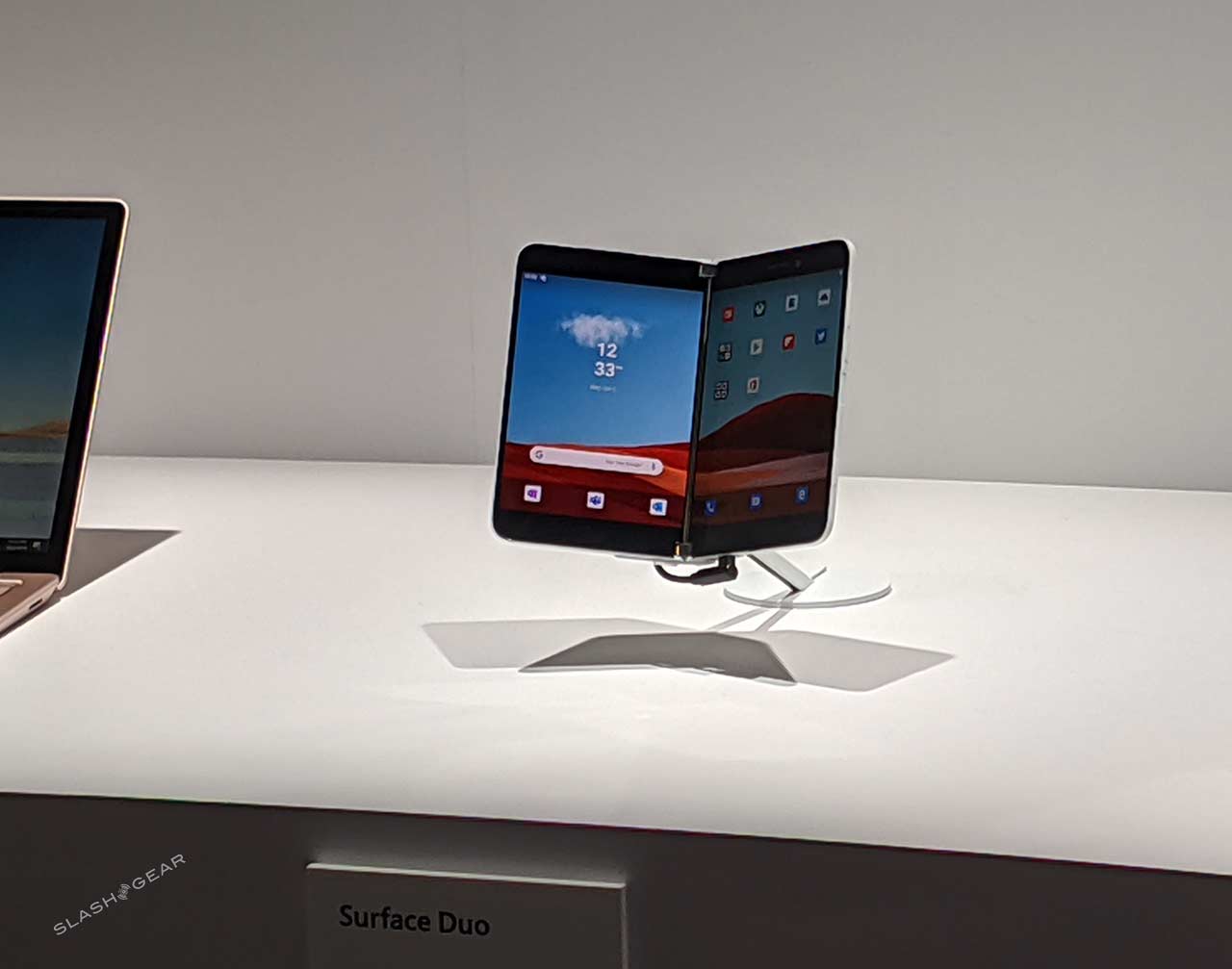 At the back of the device there'll be a single camera. That camera will likely be an 11-megapixel shooter with f/2.0 aperture and pixel size 1.12um. There'll be a fingerprint scanner on this machine for secure access – and no word yet on face-scanning login.
There'll be a single USB-C port for data access and charging. There'll be a sincle nanoSIM card slot, and the device will more than likely be able to access data speeds up to 4G LTE. Multiple data carriers – if not ALL data carriers – in the USA will work with this device for mobile data.
Rumor suggests that the battery inside this device is 3460mAh large, and there'll be a Surface Pen for all your stylus needs. It would not be a shock to find companies like Adobe working closely with Microsoft to enable top-notch stylus interactivity with onscreen apps. We'll likely know more about the release of this device in the next few months. If this device does not launch inside this year with the specifications listed above, it'll be a shock – stay tuned as we suss out the release and pricing details sooner than later!