Surface Book 2 hands-on: 13.5" and 15" take fight to Apple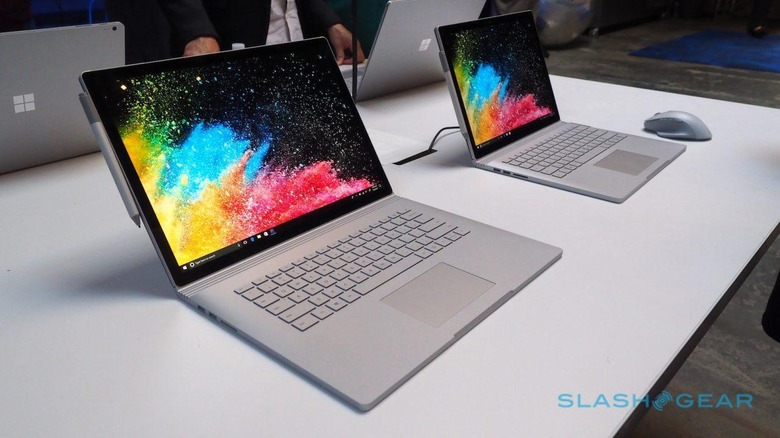 Microsoft has just unveiled the Surface Book 2, and it's pulling no punches as it targets Apple's MacBook Pro. Packing new processors for as much as twice the power of Apple's flagship notebooks, there's now not just one 2-in-1 but two. Joining the existing 13.5-inch model is a brand new 15-inch Surface Book 2.
Microsoft's design hasn't strayed too far from the original Surface Book we first saw in late 2015. Even as the Surface Pro and Surface Laptop have embraced the tactile charms of Alcantara, the 2-in-1 notebook has remained a fabric hold-out. It's testament to that original aesthetic that the Surface Book 2 is still instantly recognizable, then.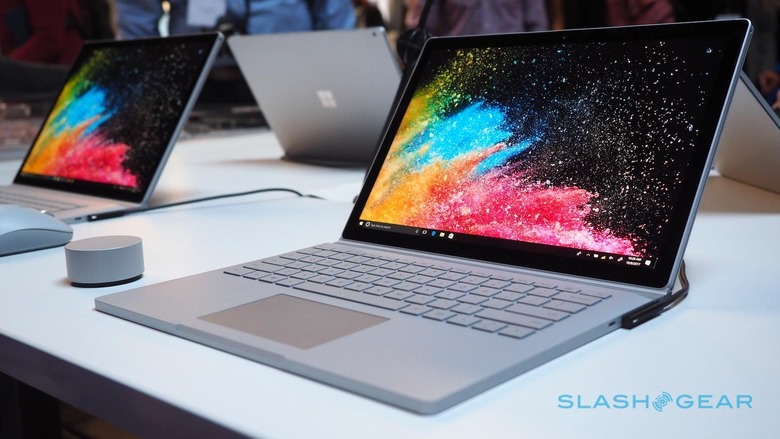 Much of that is down to the hinge, which resolutely refuses to fold flat and instead gives the Surface Book 2 its unusual profile. As before, you can release the upper touchscreen section – complete with processor, storage, and battery – from the keyboard section and use it as a tablet. However the mechanism for that has been improved, and you don't have to hold your finger down on the button any more.
Look closely, and you'll see the main external change: the addition of a USB Type-C port. The Surface Book 2 is the first of Microsoft's notebooks to offer the connection, and as you'd hope it supports USB 3.1 data, video, and power in/out. Indeed, although Microsoft has stuck with its magnetically-clinging power adapter, with a sufficiently beefy power supply you could charge the Surface Book 2 via USB-C instead.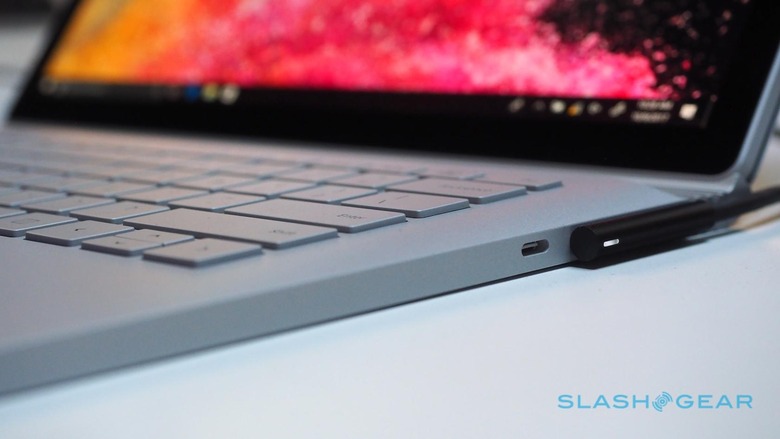 On the other side there are still two USB 3.1 Type-A ports. Microsoft also finds space for an SDXC card reader and a 3.5mm headphone jack. It's a decent selection of ports, certainly, though I can't help but wish that they'd slotted a second USB-C in there, even if only on the larger 15-inch model.
Then again, maybe I could overlook that for the wave of extra power. According to Microsoft, the Surface Book 2 15 has five times the graphics performance of its predecessor and is twice as powerful as Apple's latest MacBook Pro. The Surface Book 2 13 is apparently three times more powerful than the original Surface Book.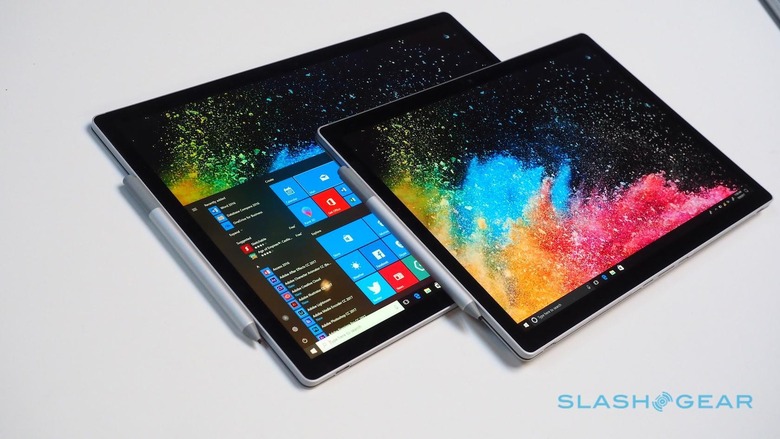 Intel's latest 8th-generation processors are responsible, though there's a lingering 7th-gen for the entry-level machine. The 13-inch kicks off with a Core i5-7300U 3.2GHz with 8GB of RAM and a 256GB PCIe SSD; more interesting are the Core i7-8650U models, which can be had with 8GB or 16GB of RAM, and up to 1TB of PCIe SSD storage. The Core i5 gets Intel HD Graphics 620, while the Core i7 pairs that GPU with NVIDIA's GeForce GTX 1050 with 2GB of its own memory.
Over on the 15-inch, things are even easier. There's a single processor – Intel's Core i7-8650U 4.2GHz – and 16GB of RAM as standard. Your only choice is 256GB, 512GB, or 1TB of PCIe SSD storage. Intel UHD Graphics 620 coexists with NVIDIA's GeForce GTX 1060 with 6GB of its GDDR5 memory.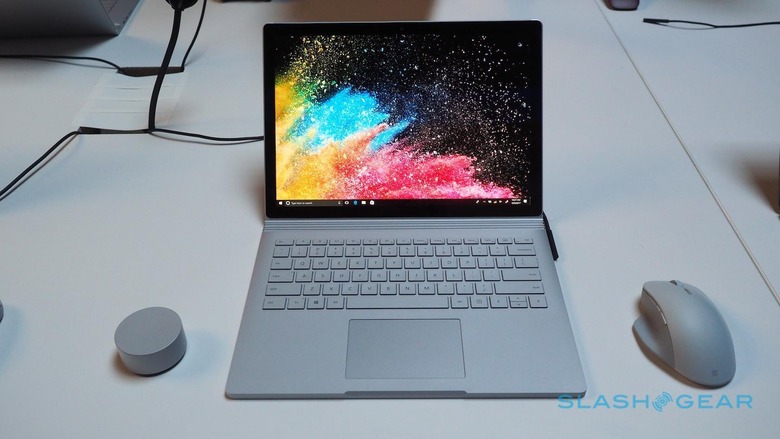 What's astonishing is that Microsoft is still claiming up to 17 hours of battery life, from both 13- and 15-inch models, when in laptop mode. Undock the tablet, meanwhile, and you should see 5 hours the company says.
There are a few ways Microsoft is helping you destroy those numbers, mind. As well as the GPU potency making the new Surface Book 2 highly tempting to graphics professionals and VR designers, the 15-inch model has an Xbox Wireless receiver built-in too. Games will likely look good on Microsoft's 13.5-inch and 15-inch PixelSense displays: the former runs at 3,000 x 2,000, while the latter steps it up to 3,240 x 2,160. Either way, they both work with the Surface Pen – which now supports tilt, among other improvements – and the Surface Dial for on-screen interactions.
Meanwhile there's also a new peripheral arriving alongside them, the Surface Precision Mouse. Designed in-house by Microsoft's accessories team, it supports both Bluetooth and USB and has three customizable buttons on the left side that can be programmed to open apps or trigger macros. There's pairing for up to three devices – switched with a button on the base – and a scroll wheel that can flip between free-rolling and notched at the touch of a button.
The Surface Book 2 will run the Windows 10 Fall Creators Update out of the box, which is also available for all Windows 10 users to download and install. Both sizes of the notebook will go up for preorder on November 9, priced from $1,499. The Surface Book 2 will ship from November 16.
Update: Full pricing for the new Surface Book 2 is as follows:Surface Book 2 13.5-inch pricing:
Core i5 / 8 GB RAM / 256 GB SSD / integrated GPU – $1,499
Core i7 / 8 GB RAM / 256 GB SSD / discrete GPU – $1,999
Core i7 / 16 GB RAM / 512 GB SSD / discrete GPU – $2,499
Core i7 / 16 GB RAM / 1TB SSD / discrete GPU – $2,999
Surface Book 2 15-inch pricing:
Core i7 / 8 GB RAM / 256 GB SSD / discrete GPU – $2,499
Core i7 / 16 GB RAM / 512 GB SSD / discrete GPU – $2,899
Core i7 / 16 GB RAM / 1 TB SSD / discrete GPU – $3,299