Surface 2 Docking Station, Touch 2, Type 2, and Power Cover hands-on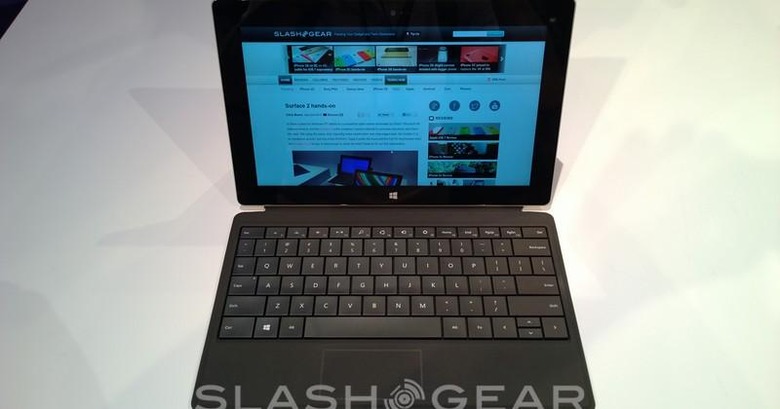 With the ushering in of the second generation of Microsoft Surface devices in the Surface 2 and the Surface Pro 2, the company decided to give their accessory line a boot as well. What you're seeing this week is a Type Cover 2, a Touch Cover 2, a Power Cover, and a Docking Station. These accessories will all be working with the Surface 2 and Surface Pro 2 as well as the original Surface Pro but will not work with the original Surface RT.
With the Docking Station, you'll find a hard-and-fast beast of a bast for your full-metal Surface device. You'll be connecting on two sides with a slide-and-lock hug of a dock, this dock providing access to a number of ports on either side. You'll have one USB 3.0 port, 2x USB 2.0, Ethernet, a Mini DisplayPort (out), and audio in/out. This dock does allow the use of the Type and Touch covers at the same time as you're docked as well.
The new Type Cover 2 works with a new collection of colors, including a stark black and bright blue, pink and purple. Blue and Pink are also called magenta and cyan here by Microsoft. These new units work with a newly enhanced touchpad for Windows 8 gestures as well as a set of keys with quieter click mechanisms.
The Touch Cover 2 also comes with a set of boosts, starting with a renewed blast of sensors. You'll find that this unit also works with backlighting now, and will cost $10 less than the Type Cover 2. That makes the Touch Cover 2 come in at $120 while the Type Cover 2 costs $130, and the whole lot works with Surface 2, Surface Pro, and Surface Pro 2.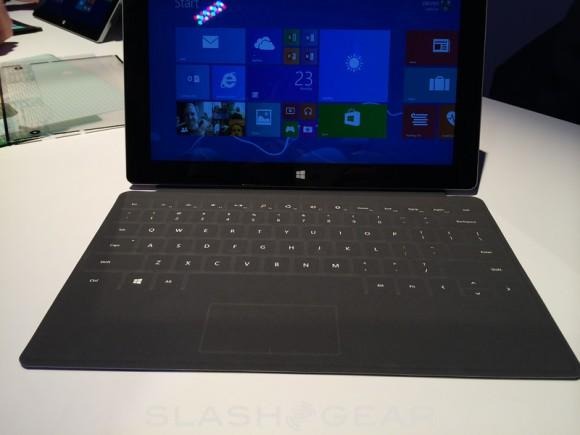 The new Power Cover has been shown off this week as well, here coming in with Type Cover abilities and a battery pack. This battery is able to be charged up on its own, adding what Microsoft suggests is a 50% battery life gain to the Surface 2, Surface Pro, or Surface Pro 2. Release time on this and each of the other accessories in this post remains a mystery – it's a good bet you'll see them all by the end of October.
One of the more odd additions to the Surface accessory lineup is the Wireless Bluetooth Adapter for the full collection of Type and Touch covers. With this accessory you'll be able to go wireless with these keyboards, connecting – you guessed it – with Bluetooth on the go. There's also a tiny Car Charger coming in for the Surface family, i costing $50 while the Bluetooth Adapter will ring in at $60 USD.