Supposed new MacBook Pro pic with touchscreen trackpad: looks fake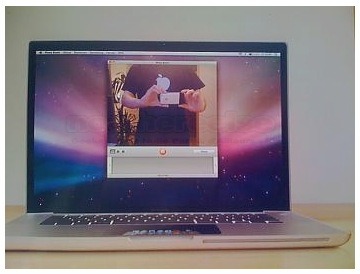 Is this the new MacBook Pro?  No, probably not, but it's an interesting idea anyway.  Turning up on Nowhereelse.fr from an unknown source, the notebook picks up on quite a few of the rumored features and design aspects we're semi-expecting for the upcoming MacBook and MacBook Pro refresh.  One of the more outlandish is the touchscreen trackpad, onto which the OS X Dock has been moved.
The casing has borrowed some of the MacBook Air's curves, and the screen has gained what looks to be a flush-fitting glass or plexiglass cover.  There's also apparently meant to be an iSight webcam in the screen bezel, so that we can see the person "taking the photo" on their first-gen iPhone.
So, I'm calling fake on this one, but it's an interesting starting point for some discussion.  Do you think the new MacBook Pro will have some, or any, of the features seen here?  If not, what do you think Apple will introduce.  Are we getting over-excited for something that will turn out to be a minor refresh, or is there a must-have notebook waiting in the Cupertino wings.  Let me know your thoughts in the comments.
[thanks Stagueve]