Superbook wraps up Kickstarter campaign with nearly $3m record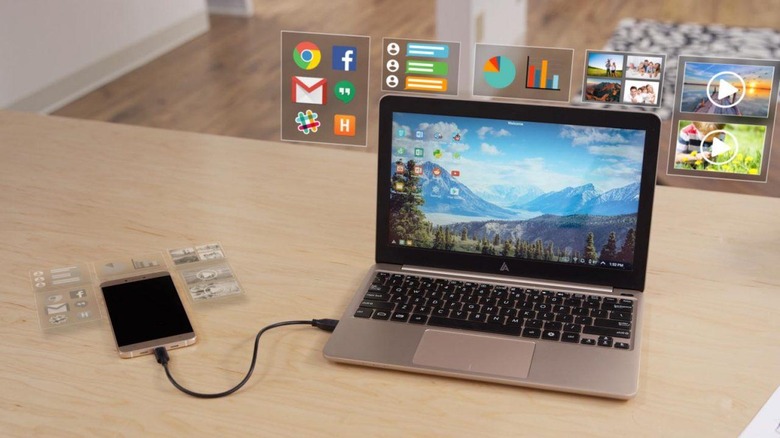 Superbook, the system that turns your smartphone into a laptop, has wrapped up its Kickstarter campaign with runaway success – it raised nearly $3 million in funds, making it one of the most successful tech crowdfunding campaigns in Kickstarter history. As we're previously reported, Superbook is a shell of sorts with the hardware needed to turn your smartphone to a laptop once plugged in. The idea behind this device — and others like is — is that modern smartphones are pretty powerful, and owning a full-fledged laptop on top of them is redundant for many people.
Superbook is, for some at least, the ultimate smartphone accessory; just plug you phone in and it will take everything it offers and make it available on the laptop's display. You'll get the comfort of a regular laptop keyboard and a full-sized trackpad, plus more than 8 hours of battery life, for the very modest price of $99 versus the $200+ you'd spend for a basic laptop.
The idea behind Superbook is not new, but this is arguably the most promising option to surface in a while. Apparently many people like the idea of turning their phone into a laptop, as the campaign wrapped up a few days ago with $2,952,508 in funds and more than 16,000 backers. That's a generous amount of money to be raised in a single month.
Overall, Superbook now holds the distinction of being the 26th most-funded Kickstarter project — or, better put, it is now in the top 1-percent of successful projects. It is also the top most funded hardware Kickstarter project in the platform's history. If you like the idea of Superbook but missed out on the campaign, the company behind the project says it will be taking preorders through BackerKit soon — you can find more details on how to take advantage of that here.