Super-sleek Giugiaro concept has a hydrogen heart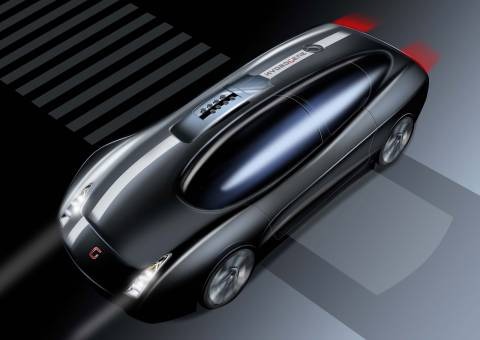 We've already seen that just because a car is economical, it doesn't have to be boring; now the super-green lobby have a pin-up, in the shape of Giugiaro's Vadhò.  The aerodynamic body-shell is built on a one-off chassis, sitting two passengers in tandem in a fighter-jet styled cockpit that could be sited on either the left or right side depending on which country the car was built for.
But the really clever stuff is underneath the shell: a hydrogen powerplant, riding alongside the cockpit.  Control is similarly aircraft themed, with no mechanical linkages between the two driver joysticks, instead being a fly(or drive)-by-wire system.
Don't expect to see the Vadhò in a showroom near you; aside from the fact that Giugiaro doesn't actually build cars, just design them, this is definitely a concept. 
Giugiaro Vadhò concept landing in Geneva [Autoblog]