'Super PAC App' for iPhone dishes details on political ads

We're just a few short months away from the General Election, and unsurprisingly, political ads are everywhere. Super PACs are everywhere too, funneling millions of dollars in funding into campaigns on both sides. It seems like there's a new Super PAC every day, and with names like American Crossroads, Americans for Freedom, and yes, even American Sunrise, it can be difficult to keep them all straight. What's a politics junkie to do?
Well, you can start by checking out Super PAC App for iPhone. The idea is similar to that of Shazam, only instead of identifying music, you'll be identifying the Super PACs behind political ads. The app is free to download, and all you have to do is hold the app up to screen when you see a political ad. The app will then tell you which Super PAC funded the ad, along with who the PAC supports, how much money that group has raised and how much it has spent.
Even better is that you can use the Super PAC App to examine the claims made in the ad and find out if they're based on fact. Users will also be able to rate the app by selecting one of four different rankings: Love, Fair, Fishy, and Fail. Creators Jennifer Hollett and Dan Siegel tell Mashable that this app is meant to get ordinary people more involved in politics before Election Day rolls around, and given the wealth of information this app provides, it just might do that.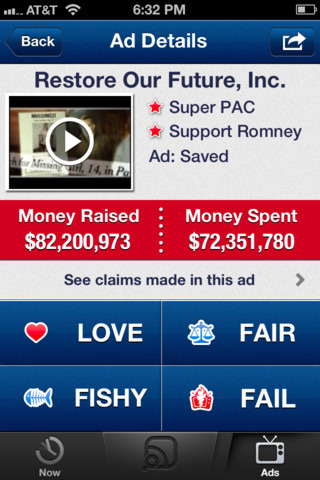 For the moment, this app is exclusive to iPhone (download), and unfortunately it doesn't seem like Hollett and Siegel are planning an Android release. They are considering a desktop browser plug-in however, so it may not be long before Super PAC App is usable on PCs. Stay tuned, as we'll be bringing you any new information about this particularly handy app.