Super Mario Collection Announced for Japan, Heading to the Wii in October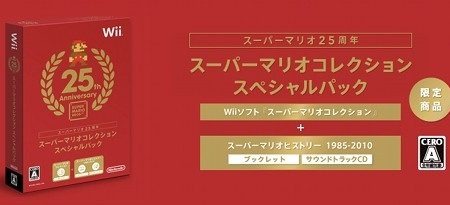 Surely by now you've heard that it's our favorite digital plumber's anniversary today, right? Well, if not, Super Mario is 25 today! And while having a competition in the UK to see who can make the coolest video detailing why they love Mario is great, it just wouldn't be right if some kind of video game wassn't released. Thankfully, Nintendo feels the same way, and they've just (officially) announced the brand new Super Mario Collection. Which, as you might have guessed, was created specifically for this momentous occasion.
The new collection features a port of an old classic: Super Mario All-Stars. You'll also find in the nice red box a booklet that outlines the history of Mario and all of his friends. But, probably best of all, is the CD that you'll find in there, which showcases music from the Mario titles over the years. That includes the original music from the first title (the collection of sounds we all know and love), as well as music from the latest release, Super Mario Galaxy 2 over this last Summer.
The box set is scheduled to launch on October 21st for 2,500 Yen, or about $30. But, if you're not in Japan, and you want to check out all the goodies in a more "preview" style, you can always head on over to the website. They've got plenty of swag to show off for those in the Club Nintendo circle. Unfortunately, there's no word on whether or not the collection will find its way to international markets, but we can certainly keep our fingers crossed. The video below showcases the collection, so take a gander.
[via Joystiq]