Super-Ferrari Owner Uses It As Daily-Driver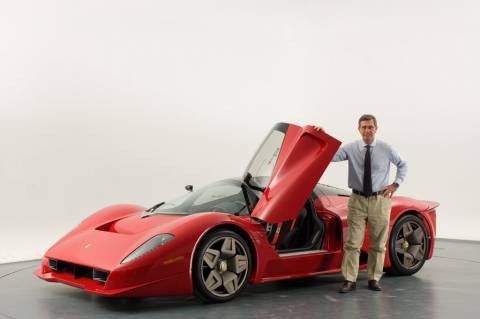 The one thing worse than knowing there are hyper-rich people out there with all the cool toys you'd love to own, is knowing that they don't actually use most of them.  Which is why it's semi-refreshing to read about James Glickenhaus, who commissioned a one-of-a-kind custom Ferrari called the P4/5; okay, so he's still indecently wealthy but at least he drives the car rather than leave it sat in an air-conditioned garage.
https://www.youtube.com/watch?v=HydIDHrsMbk
Based on the running gear of a Ferrari Enzo, the P4/5 was a restyle and rework that saw many hours in the wind-tunnel and over 200 custom parts, adding up to a car that's not only distinctive but also faster than the original donor.  Costing around $4m, it's entirely carbon fiber bodied and produces less drag with greater downforce when compared to the Enzo. 
The interior was designed by Glickenhaus, and includes an iPod nano and a Tablet PC.  Top speed is 225mph, while 0-60 comes in 3.5s.