Sunrise debuts Apple Watch calendar app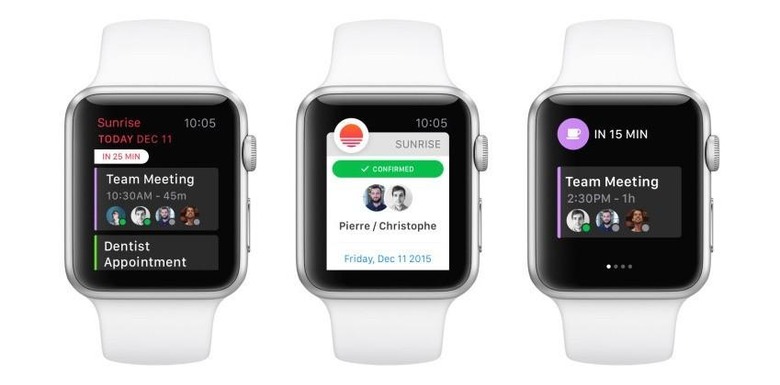 Sunrise, the popular calendar mobile app that was acquired by Microsoft earlier this year, has just launched an Apple Watch extension of its iPhone app. Sunrise for Apple Watch aims to be a simple, light weight way to keep track of your scheduled events and keep things relevant to the current time. Users will have access to view the current day, upcoming days, notifications, and a Glance all on their wrist. The Watch extension is available today, either by downloading Sunrise for free from the App Store, or updating your existing app.
Events that have been entered into your calendar will show up as expected in Sunrise for Apple Watch, with a scrollable list that displays all upcoming events. Details shown in this view include the event's name and scheduled time, but users can top on one to see more information, such as the location or other people also attending. Alternatively, simply force touch on an event to change RSVP status.
Swiping up on the screen to see Sunrise's Glance will automatically reveal the next upcoming event's details, again including the place and other invitees, as well as when the event is happening in relation to the current time, i.e. "in 15 minutes."
Notifications on the Watch will include reminders and confirmations, and incoming invitation requests can be accepted or declined on the spot.
Sunrise's Apple Watch app follows the recent release of their custom keyboard for iOS, Meet. That app gives an overview look at your calendar within the keyboard space, as well as choose available times to schedule an event.
SOURCE Sunrise