Sub-$50 Portable HD Radio landing this summer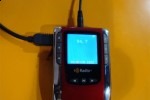 HD Radio is slowing making inroads into the US market, and this prototype could be the budget gadget that accelerates that.  Expected to retail for under $50 when it launches in a few months time, the unnamed HD Radio has a full color display and standard 3.5mm headphone socket.
According to their information, the HD Radio will land at a "big box retailer" – our money is on Best Buy - sometime over the summer.  As well as HD Radio it'll be able to pick up FM broadcasts, but there's no word on battery life, AM capabilities or manufacturer.  That button on the right-hand side, with the round icon, looks a little like a recording key, which might suggest you can load up a memory card and record OTA broadcasts.
The downsides – apart from the lack of information – are that it lacks Bluetooth support and, well, isn't the smallest gadget on the block.  That likely won't hold back too many people when it's carrying a $50 price tag, though.