StyleAudio Carat-Topaz DAC and headphone amp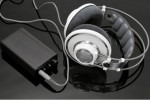 Japanese firm StyleAudio have announced their latest headphone amplifier and DAC, the StyleAudio Carat-Topaz.  Bizarre name aside, the packs not only USB but optical inputs, together with a high-end Burr-Brown 127dB DAC, all in an anti-vibration chassis with copper spikes.
Compatible with Windows and Mac systems, the Carat-Topaz DAC boasts 24-Bit 192kHz sampling, a 0.0004-percent signal to noise ratio and capacitors, resistors and oscillators sourced from so many different countries that the end result is better traveled than I am.  According to StyleAudio, many of their high-end features from more expensive ranges have been filtered down into the Carat-Topaz.
The StyleAudio Carat-Topaz headphone DAC is available now, priced at €395 ($502).  That makes it very much a luxury item, when you look at other – well rated – headphone amps already on the market.
[via GenerationMP3]