iBasso Cobra D10 portable amplifier and DAC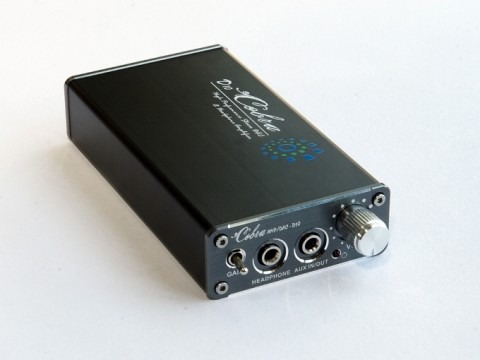 iBasso have announced another compact amplifier and DAC, the Cobra D10.  Capable of operating simultaneously as both an amp and a DAC, or alternatively in just one mode or the other, the D10 boasts 20hrs runtime from its rechargeable 470mAh Li-ion battery (30hrs if the DAC is turned off) and has optical, coax and USB inputs, among others.More photos and detailed specs of the iBasso Cobra D10 after the cut
That flexibility makes the Cobra D10 ideal both for those wanting extra audio quality from their PMP – or to drive power-hungry headphones on the move – or laptop users keen to improve their own mobile music performance.  As with other models in iBasso's range, the opamps are interchangeable.
Power Source:Built-in 4.2V 470mAh Li-polymer Batteries or external power supply
Frequency Response: 17Hz~20 KHz -0.5dB (DAC) 17Hz~100 KHz -0.5dB (AMP)
Signal to Noise Ratio:97dB (DAC), 104dB (Amp)
Crosstalk: 93dB (DAC) 101dB (AMP)
Total Harmonic Distortion: 0.006%@1kHz/0dB(DAC) 0.005%@1kHz/0dB (AMP)
Output power:Up to 100mW+100mW into 32Ω
Gain: 3dB/10dB (AMP)
Battery Life: 20Hours or 30Hours if amp only.
Battery Charge Time: 6 Hours
External Power supply: 5V DC
Recommended Headphone Impedance: 8~300Ω
Case dimension: 2.2W x 4.1L x 0.8H (inch) 55W x 104L x 21H (mm)
Weight: 168g or 5.9oz
The iBasso Cobra D10 will be priced at $275.  It will come with an AC adapter, leather case USB cable and a selection of different opamps.
[via GenerationMP3]