Student creates 30-second cellphone battery charge, tapped by Google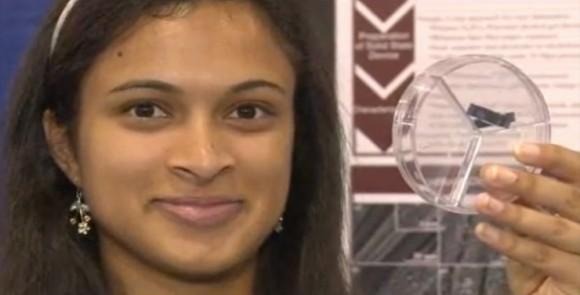 This year's Intel International Science and Engineering Fair has named its three winners, picking 18-year-old Eesha Khare for her invention of a supercapacitor that could soon charge a cellphone battery in 20-30 seconds. This little piece of technology has landed Khare a runner-up prize of $50,000 USD in scholarship funds which she'll use to attend Harvard University and continue her research. This technology will not only be able to be utilized by the relatively small capacity batteries of smartphones, but of future electric cars, as well.
According to Khare, she's been contacted by Google with interest of some type or another – she's not being too open at the moment with the specific details. As Google is primarily a services group at the moment, they're pushing in with hardware with such devices as the Chromebook Pixel and collaborating with groups like ASUS for the Nexus 7. It could be that this interest shows additional faith in their own ability to create without 3rd-party manufacturers.
Imagine if Google introduced the first smartphone with a battery able to be charged in less than a minute? Certainly such an impact on the mobile industry would want to be accessed by whichever group had first dibs.
You'll find that Khare's project: "Design and Synthesis of Hydrogenated TiO2-Polyaniline Nanorods for Flexible High-Performance Supercapacitors", also won more than a few categories at this year's event. Have a peek at the full winners list to see category after category dominated by Khare.
Khare is currently preparing to evolve the technology and continue research into the future, and has not yet announced any plan to sell her work to any group. As the technology she's working with right this minute already works to hold 10,000 charge-recharge cycles, it wouldn't be surprising for her to continue to show up in the news as a sort of Tony Stark-like name as she continues to kick the technology universe to its knees: a conventional rechargeable battery lasts for around 1,000 cycles.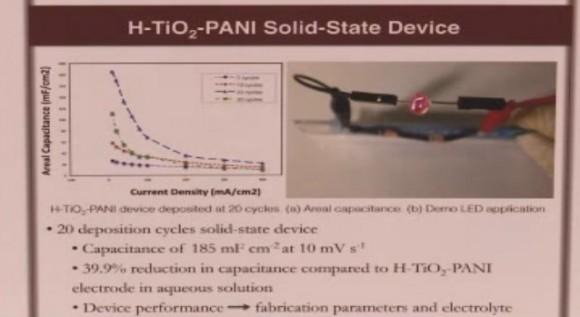 This technology Khare is working on has been used to power an LED thus far, and is flexible – it'll be able to be used in fabric and in bendable displays in the future as well. Khare's solution is also solid-state, this meaning great things for the future in environmentally-friendly states – no worries about battery juice spilling all over your hands and face any more!
BELOW: B-Roll footage of the event, specifically surrounding Khare and her presentation of her battery technology.