Stream TV debuts Ultra-D glasses free 3D at 4k resolutions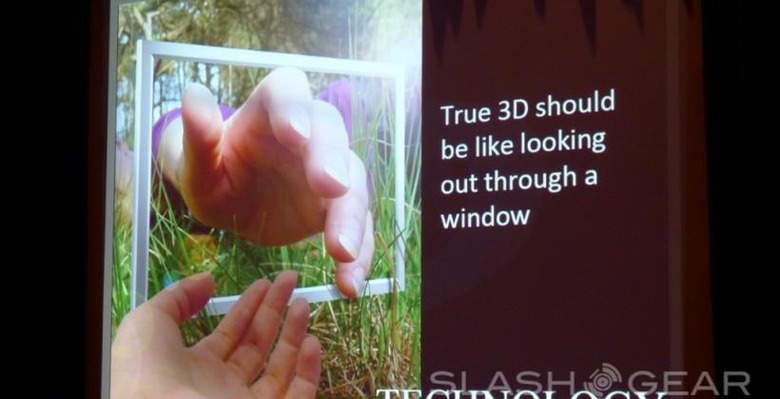 Today the folks from Stream TV proud to unveil, again, their Ultra-D glasses-free TV technology here at CES. What makes Stream TV different is not only do they not trick the eye with 3D, but they'll be offering the first ever 3840 x 2160p 4K resolution support. The new tier of Ultra HD combined with their glasses-free 3D will bring the ultimate viewing experience. More details below.
There's a lot that separates Ultra-D from the competition, although they don't have much to compete with at the moment. Their technology is completely proprietary, although we've seen it before. Auto stereoscopic 3D will drive the 4k 3D market according to Stream TV. The difference between Ultra-D 3D and others is the use of auto stereoscopic 3D. You won't be having two images tricking your eyes with a terrible flickering image. The auto-stereoscopic image is angled in a different way than before, and don't automatically. It's so good it looks as if you're seeing out a window. At least according to Stream TV.
"This is bigger than the transition from black and white to color"
What also makes Ultra-D standout from the competition is the use of their proprietary technology being used on any and all available TV panels. This means LED, LCD, 4K TVs and more. Then add in the fact they'll offer upscaling from 1080p to 4K. While 4K or "Ultra-HD" is still new and content isn't quite readily available on a large scale. It's coming, and coming soon. Add in the option to control and adjust the level of 3D, this technology is truly different than most.
The other important bit here is the source content. Watching movies, streaming video from Netflix, game consoles and more will all work with Ultra-D glasses-free 3D — and look great doing it. Today Ultra-D also unveiled their companion device called the Ultra-D SeeCube 4K. This will enable support for existing hardware to take advantage of Ultra-D glasses-free 3D. As well as streaming with mobile devices like the Apple iPad and Android smartphones and tablets. We'll update with additional details and hands-on soon.