Stranger Things Season 2 Minecraft crossover LIVE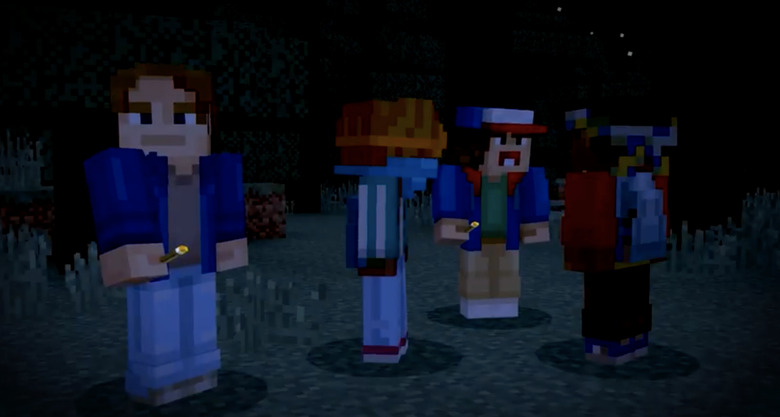 This morning you can watch the entirety of the Stranger Things Season 2 trailer in Minecraft form. In addition, the whole Stranger Things crew is available as a skin pack in Minecraft. And it's entirely terrifying and fun and super spooky. Sadly there is not yet a Minecraft-based Stranger Things World – but we can cross our fingers and hope! Imagine the Nether turned into the Upside-Down – what a wasted opportunity!
Much like previous special edition brand crossover skin packs in Minecraft, this Stranger Things skin pack allows the player to become their favorite on-brand character. In this case, that means being any one of basically every single one of the characters found in Stranger Things season 1 and/or 2. We're talking Eleven, Mike, Dustin, Lucas, and Will, and Eggo Waffles of course.*
*As it turns out there are no waffles in the skin pack, but you CAN find a mega-massive pile of pancakes if you bring your crew to the Adventure Time world. That's also still out there for purchase in Minecraft right now – and I highly recommend it. Bacon pancakes, making bacon pancakes. Take a pancake and I put it in a pancake.
If you're on a bedrock engine platform for Minecraft, you're going to be able to purchase this skin pack for 490 coins. If you're on PlayStation or any other pre-connected platform, you'll be dishing out three bucks. That's $3 USD, or approximately the same price in coins... depending on how many coins the person who bought the coins dished out in the first place.
Also, just in case you've been waiting for the release of Stranger Things Season 2 and you're not currently bing-watching the entire season right now – it's out. Netflix has the entirety of Stranger Things Season 2 out for the watching right this minute. GOOO!