Strand Design 166 Superyacht Has Sportscar Garage, Optional Bullet-Proof Samurai Leather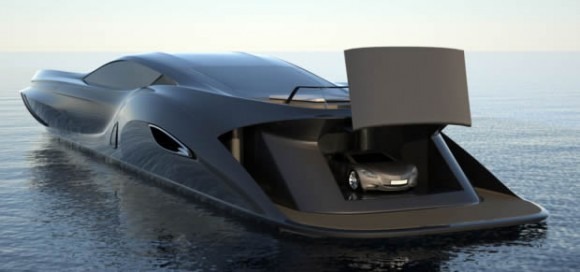 You might remember Gray Design's Strand Craft 122, a sleek, curvaceous yacht which integrated a garage for a sports car to take you from the marina to your choice of restaurant. For some, though, a mere 122 feet is far too unimpressive; what they'll be wanting is the Strand Craft 166, a new superyacht that has the same handy garage but a whole lot more space on-board.
Video after the cut
There are a full five en-suite double staterooms, each lavishly equipped with iPad control units and 52-inch Bang & Olufsen TVs. The carbon-fiber foredeck has a jacuzzi and wet bar, while the flybridge and radar mast both retract – as you can see in the animation below – so as not to spoil the aesthetic when they're not required. You get the feeling the Strand Craft's designers have spent a little too long in dank, underground nightclubs: there are lashings of red leather on the walls, chrome and brushed aluminum, and you can optionally have the whole interior clad in bullet-proof Samurai leather.
The car itself is a custom creation by Gray Design, though you could easily slot in your own Ferrari or Lamborghini instead. A 40 knot top-speed rounds things out nicely. No word on pricing – let's just imagine lots of zeros – and no sign of a date as to when we might see the first Strand Design 166 take to the waves; this may well end up another design exercise that never actually gets wet.
[via Autoblog]
Press Release:
Strand Craft 166 by Gray Design

The Strand Craft 166 is an uncompromising superyacht that is as outrageous as it is daring. Designed entirely around an automotive theme, this yacht is ideal for owners who are addicted to that new leather smell. Her low stance, enormous length and curled haunches give this vessel a dynamic aesthetic that is guaranteed to turn heads in the the most well appointed marinas.

Retractable flybridge

Contributing to the sleek profile of the yacht is the retractable flybridge and radar mast that retreat into the skin of the yacht when not in use. Both can be deployed independently of each other and are available only when they are required, ensuring the yacht keeps the cleanest possible lines for making that first impression. Strengthening this philosophy are the twin concealed entrances to the yacht, hiding the stairway to the upper aft deck as well as providing access to the garage, bar and lounge areas.

Hidden jacuzzi deck

Concealed beneath the carbon fibre inlaid fore deck is a sun deck equipped with a large jacuzzi, sporting a built-in bar to ensure that every party is well catered for. Access is through a vertically sliding glass door in the windscreen of the pilot house where there is ample seating for 8 guests. The pilot house itself opens up to the lounge to provide a smooth transition and connection between the driver and the main guest area and at the same time letting in light from the main windscreen to the spaces below.

Supercar tender

Following Strand Craft's automotive tradition, the SC166 comes equipped with it's own custom supercar tender. Created in the same design language as it's carrier, the tender ensures you can roll out at your favorite port in ultimate style. With a V8 engine producing 620 horsepower and a top speed of 305 kph, the tender is an accessory that will certainly put a smile on your face.

Alternatively, you can order your own choice of conveyance to accessorize your superyacht. Be it Koenigsegg, Maybach, Lamborghini, Ferrari, or a waterborne tender, the choice is yours.

Interior and exterior automotive styling

The automotive theme is rich in the SC166, from the cockpit like glasshouse on the upper deck to the red leather covered upholstery that adorns large surfaces of the interior. Chrome highlights sparkle in every part of the cabin and the walls are treated to a highly polished gunmetal automotive lacer. Brushed aluminum trims the windows and bar area and the hallways are bathed in soft LED spotlighting.

Bulletproof

The SC 166 comes with the option of having upholstery made from an exclusive Japanese Samurai tread leather. These custom designed leathers are woven from a bullet-proof textile made of Vectran fibres. Optionally all walls can be covered in Samurai leather to make it a bullet proof yacht

Completing the specification list, there are five double en-suite staterooms, each equipped with 52 inch Bang & Olufsen TVs, top of the line sound systems, LED mood lighting and a iPad control and information center from Poets Road to allow you to activate any function from wherever you are on the yacht as well as providing essential information about the running and status of the vessel and it's massive engines.

Powered by two MTU 20V4000 M93L 2x4300KW (2x5766hp) engines with a Vericor TF50 4177KW (5600hp) booster engine the SC166 is capable of cruising speeds of 30 knots with a top speed of 40 knots.

SC166 Specifications

LOA—————————————50 m

BEAM—————————————9 m

CONSTRUCTION————–High Tech Composites

DRAUGHT (loaded)————————-1.9 m

WEIGHT———————————230 Ton

ENGINES——————-2 x MTU 20V4000 M93L

BOOSTER—————————Vericor TF50

PROPULSION——-Water Jets Rolls-Royce KAMEWA

TOP SPEED—————————~ 40 Knots

FUEL CAPACITY————————–35000 L

FRESHWATER CAPACITY———————5000 L

BOW THRUSTERS——————————TBA

STABILIZERS——————————–TBA

GENERATORS———————————TBA

WATERMAKERS——————————–TBA

GREY / BLACK WATER CAPACITY—————-TBA

SC166 Tender Specifications

ENGINE—————————-4.3 liter V8

TORQUE——————————-347 lb-ft

HP—————————510 hp @ 8500 rpm

0-62 MPH—————————3.7 seconds

TOP SPEED——————————196 mph