Luckily for Storm Sondors he has an amazing name, and thus so does the Storm eBike he created as an electric bike for the everyman. Launched on crowdfunding platform Indiegogo this weekend, the urban transport option certainly isn't the first battery-powered bike we've seen, but at $499 it's one of the most affordable. According to Sondors, however, being easy on the wallet as well as the thighs isn't all that the Storm eBike is about, so I snapped on my bicycle clips to take a ride and find out more.
It's fair to say that Sondors is a character. A keen surfer, he came up with the idea of the eBike that bears his name after an accident that temporarily limited his mobility. He wanted to get as near to the waves as possible, but not be reliant entirely on his own power.
The result is the Storm eBike, a fat wheel which brings its own grunt to the party. It's certainly eye-catching – Sondors was stopping traffic in San Francisco's Golden Gate Park with it – though the expectation is that more people will opt for the black color scheme than the yellow demo model.
The huge, knobby tires are Sondor's key to the waves, since they allowed him to ride further down the beach. They also provide a visual counterbalance to the frame which, though not as bulky as some electric bikes we've seen, certainly isn't going to be mistaken for a waifish, carbon-fiber racer.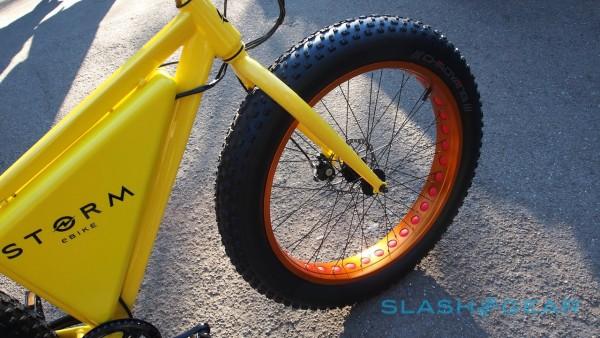 In fact, it's made of more traditional steel, though unlike many boutique bike vendors out there, Sondor is making all the components himself. That, he explained to me, was the key to the sub-$500 price: by producing everything, rather than piecing together off-the-shelf parts, he can keep the costs down.
It also means plenty of room for customization, whether that's something riders opt to pay Storm for, or do themselves later on. Already, Sondors told me, the company's Facebook page has been swamped with eager would-be owners explaining what they plan to do to make their bike unique.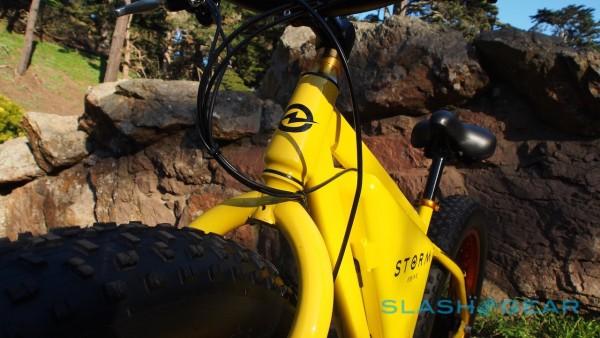 More straightforward options will be things like smooth-finish tires, different color schemes, various saddles and – eventually – a more powerful motor. The current example, which sits in a modular hub at the center of the rear wheel, is a 380 WH direct-drive motor: with the swappable Li-Ion battery, it's good for around 30 miles Sondors says.
The battery, which looks like a silver coffee thermos, recharges in 90 minutes, and slots into a waterproof housing in the frame.
It's a relatively low-frills system, for the most part. You don't get regenerative braking – where the motor turns into a generator while you're slowing, charging up the battery on the fly – and the only control is a spring-loaded lever on the right handlebar. Press it down, and the motor kicks in. Three LEDs show power status, and there's no companion smartphone app with fancy location tracking.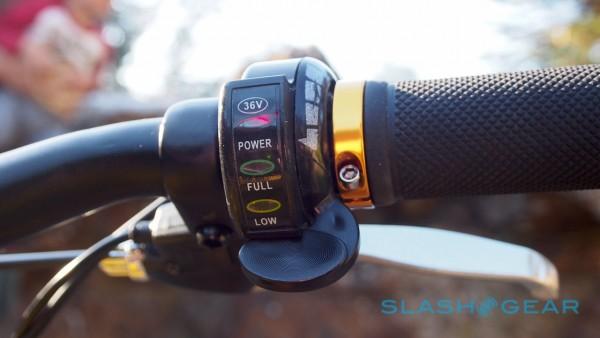 That's all in the name of cost efficiency, Sondors explained to me, and in practice you don't really miss the omissions. The bike gets moving with a small shove of the pedals, and then you have the option of either coasting along entirely on battery power, or getting involved and pedaling yourself, too.
Eventual range is dependent on exactly what sort of terrain you take on, and how lazy you are. The eBike made it up a fairly steep incline – with some pedal assistance – but that sort of riding will obviously demand more battery power than more level roads.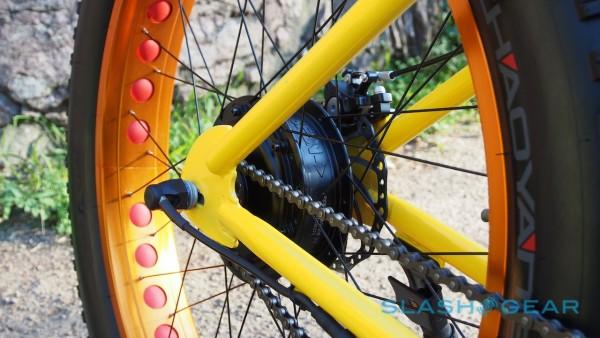 At the other end of the journey, the hydraulic brakes brought the whole 45 pound bike to a halt without complaint, though it's edging the point where carrying it up a flight of stairs would be a chore.
The good news is that – if all goes to plan – there shouldn't be long to wait if you're a backer. Sondors tells me the manufacturing process is all set up, and as such there's an ambitious May 2015 delivery date.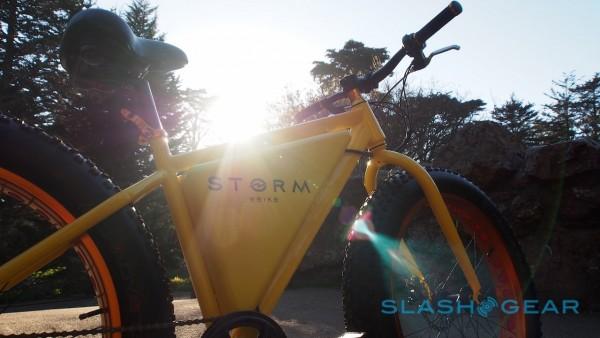 Sondors' enthusiasm for the Storm eBike is infectious, and it's clearly struck a chord among crowdfunding enthusiasts, already well in excess of its original $75,000 Indiegogo goal. The $499 tag won't last forever, mind; that's merely the early-bird tier, and prices are set to rise to $599 at the end of the week.
Update: As is so often the case with crowdfunded projects, controversy is swiftly at hand. Storm has been served with a cease & desist on trade-name issues by Prodeco Technologies, a company which has offered its own Storm e-bike since 2010, Yahoo Tech reports; more worrying for backers is Prodeco's suggestion that the claims on range and battery charging time are over-ambitious to the point of being unlikely to be delivered.
Meanwhile, there are questions regarding the company itself, and other e-bike manufacturers have waded in with concerns about whether the business model is viable and, indeed, if Storm has the necessary liability insurance in place.
My own brief experience with the bike was obviously insufficient to test things like battery recharge time and overall range, but with more than $2m in Indiegogo funds already racked up, and what already seemed like an ambitious May 2015 ship date relatively close at hand, there isn't long to wait before we find out whether Storm can deliver.
MORE Indiegogo