Stir Kinetic Desk M1 hands-on: Even smarter standing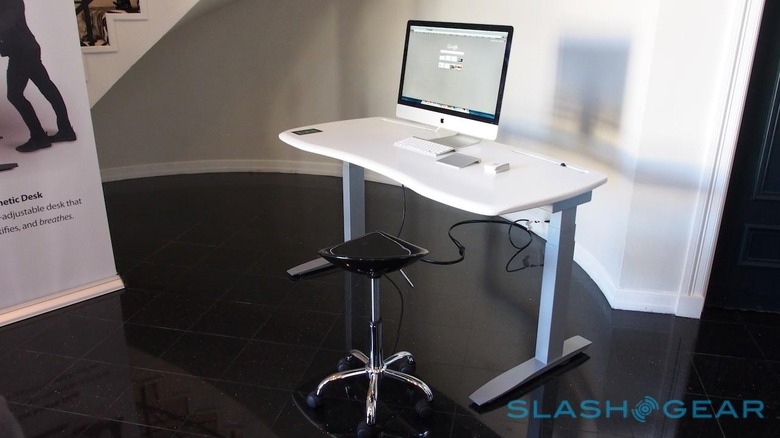 Sit-stand desks have gone from curiosity to legitimate ergonomic boon, and smart desk startup Stir is back with a new, cleverer and more affordable take on the standing desk. After surprising us with a touchscreen-controlled, high-end desk back in late 2013, the new Stir Kinetic Desk M1 takes the lessons of that $4k behemoth and translates them into something faster and more flexible. I caught up with the Stir team to find out why swifter touch, US-made hardware, and the power of both wearables and the cloud make the new model special – and, most importantly, whether people actually care about changing position once the novelty has worn off.
Stir's usage statistics compared to non-smart standing desks certainly suggest that intelligent furniture could have an edge. Owners of the original desk spend half of their time standing, Stir CEO JP Labrosse told me, and 95-percent change position every day.
In contrast, 70-percent of people with a regular height-adjustable desk don't change the position it's at.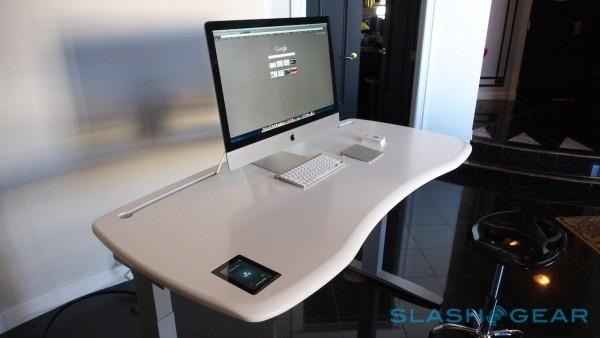 For Mark II, Stir turned to what's become its biggest client-base: big companies with plenty of staff. In fact, height-adjustable desks outsell fixed desks 4:1 in commercial settings, according to Labrosse, and so he ran a pilot scheme at several large firms to see what would make Stir the obvious choice.
The list that came back was long, but there were some key takeaways that Stir has most obviously addressed with the M1. While the crisp lines of the original desk – now renamed F1, and remaining on sale alongside this new model – were loved by some, a more friendly design was requested by others. Faster height adjustment was another request, and greater flexibility in how it works with multiple people and in modular offices.
The result is Stir Kinetic Desk M1. Where F1 has sharp edges, the M1 has curves and tapers. The motors are still enclosed in the slim metal legs, but they're now faster; the brain of the desk is four times faster, too, using a 1GHz Cortex-A8 processor and a larger, 5-inch LCD touchscreen that's brighter, has broader viewing angles, and now gets an anti-glare treatment.
In the original design, the touchscreen and computer section were integrated into the desk; for M1, they're more swappable. An on-site tech could unscrew the bottom panel, pop out a malfunctioning "brain", and slot in a new one to get it up and running again within minutes, rather than Stir having to dispatch a specialist or – worse still – bring the desk back to the factory.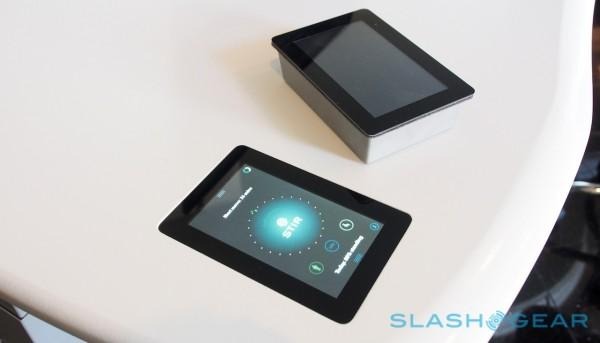 The new software works hand in hand with that modularity. Multiple user profiles are now supported, for hot-desking where several people may use the same furniture, and Bluetooth means the M1 desk can recognize them by their Fitbit (with support for other wearables and devices, like a phone perhaps, in the pipeline) and automatically load the right preferences.
Stir stores all those accounts in the cloud, so if the touchscreen section does get replaced, or if you simply go to a new office and walk up to an M1 desk you've never used before, your preferences follow along.
Some of the features people loved most about the original desk have been carried over, albeit with some design tweaks along the way. There's still cable management and four integrated outlets, but the latter now run along the back edge rather than under hatches in the surface, with cables snaking down through long grooves.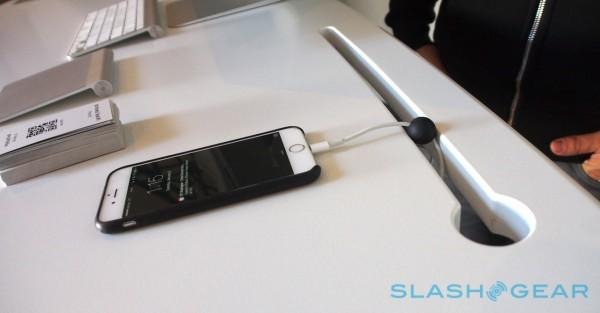 Whisperbreath – where the desk prompts users to change position every so often, by gently rising and falling roughly an inch – is still present, as are movement and calorific burn counters, but there's Android and iOS sync support in the pipeline.
Meanwhile, the slimmer desk surface makes it easier to fit standard monitor arms and document holders than before, and the whole thing constructs with the judicious application of only eight bolts. Assembly now takes just ten minutes which, Labrosse points out, makes a big difference if you're outfitting a whole office with desks.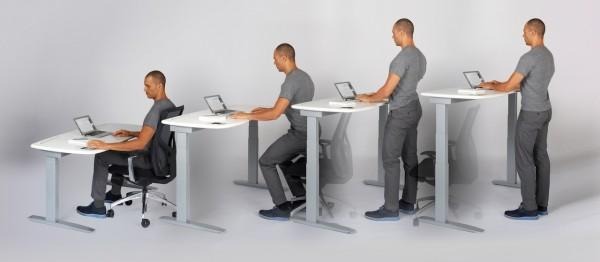 That office needn't have furniture that looks the same as everywhere else, either. Although the standard M1 comes with a 30 x 60 inch surface finished in either white or black with grey or black legs, companies placing multiple orders can go wild with custom options.
For instance, different shapes – like fitting the desk into a corner – are possible, as are different finishes and even alternative wood veneers. Three "off the rack" sizes will be offered, though any alternative will be considered; Stir already has some experience with that sort of flexibility, producing a number of special F1 desks in walnut to match one corporate client, but a new deal with a furniture maker in Grand Rapids, Michigan means the M1 is even more customizable.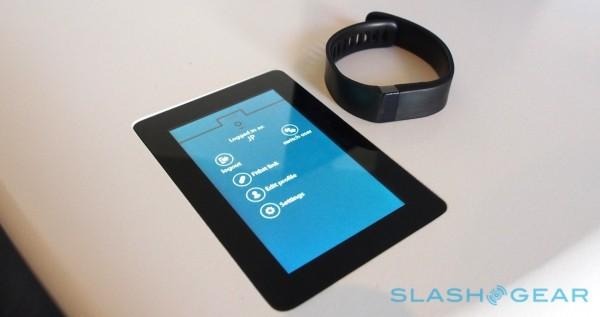 That will come at a price, of course, and dollars were the sticking point for many around the original Stir desk. That remains on sale at $4,190 (including "white glove" delivery) and gets the larger touchscreen and faster processor; the new Kinetic Desk M1, meanwhile, is $2,990 (with regular shipping).
More than $1k in difference between the two is definitely a step in the right direction, for regular consumers at least; Labrosse tells me that Stir's business clients take a more pragmatic view of price, especially given how much of an impact reliable, height-adjustable furniture can have on productivity and reducing things like RSI among employees.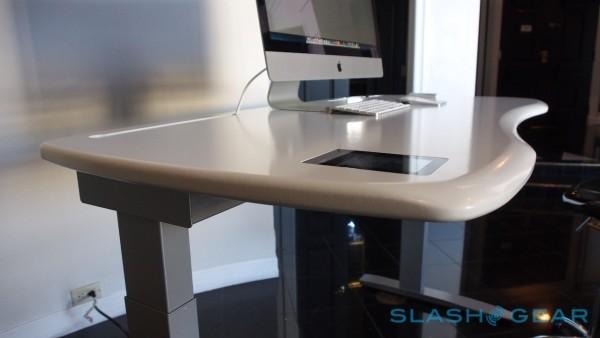 For the consumer market, I still can't help but think that 30 x 60 is a little too large for some home offices: a slightly smaller version that could accommodate a laptop and some papers, perhaps an external display too, would be sufficient for many (myself included). Labrosse says it's not the first time he's heard such a request, though currently there's no plan for a smaller model (although larger corporate orders could of course ask for some on a custom basis).
With low-cost standing desks proliferating, spending close to three grand on Stir's option is still out of the realms of possibility for many individuals. Still, if the company's research on how much such desks actually get used holds true, it's beginning to look like not every sit/stand experience is created equal.
The Stir Kinetic Desk M1 is available to order now, and will also be on-show at select Relax the Back stores.