Steve Wozniak speaks: Megaupload frustrations, Microsoft praise and Google Glass lust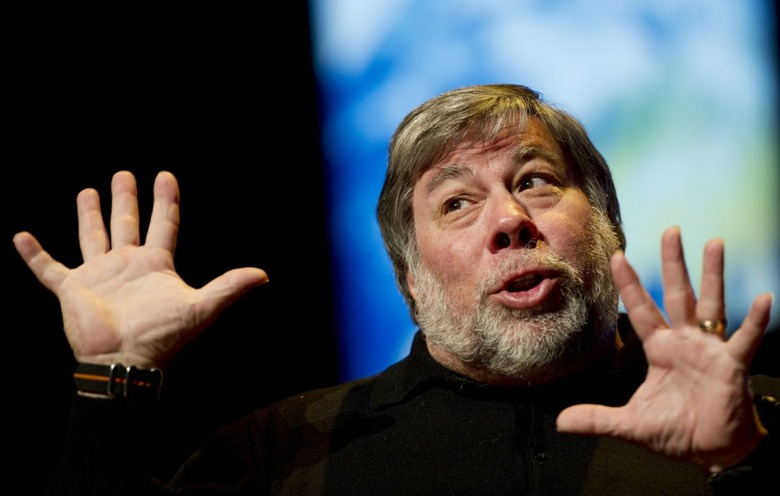 Apple co-founder Steve Wozniak has spoken out on his frustrations around the Megaupload case, as well as praising Microsoft's visual design as something Steve Jobs would be proud of. The outspoken exec voiced his dissatisfaction with the Kim Dotcom case while at the Entel Summit in Chile, FayerWayer reports, refusing to comment on whether he believes high-ranking politicians had a hand in the investigation, but expressing dismay at some of the techniques used to bring Dotcom to trial.
"Kim Dotcom was so successful, and he was well known for his flagrance, and his sports cars, and his racing cars, and style of life, that he was made an easy target" Wozniak said. "He was the biggest in the world, and they swamped in on him ... I don't want to take a side in this political thing, I don't know if that's where it came from."
It's not the first time Wozniak has spoken publicly on the Megaupload situation. One of the original founders of the Electronic Frontier Foundation (EFF), Wozniak compares the cloud storage system to other platforms like Apple's own iCloud and Google Drive.
As for Apple's rivals, Wozniak has plenty of praise for Microsoft. "A lot of people like to say that Microsoft's had no successes in the last so many years, but the Xbox is a success, and certainly Kinect" he pointed out, highlighting the clean UI of things like Metro in Windows 8 and Windows Phone.
"They have such a strikingly good visual appearance, which is a lot of what Steve Jobs always looked for, the art in technology, the convergence of art and technology. And usually it was visual appearance of things. So, I made a joke that Steve Jobs came back reincarnated at Microsoft" Wozniak said. "But I'm glad that Microsoft is starting to show that maybe they're a different company from before, i don't remember this sort of thing happening in a long time from Microsoft, so I'm very happy."
Surface isn't the only product on Wozniak's shopping list, either. He's hoping to pick up a pair of Google's Project Glass wearables, suggesting that the head-mounted display could – as long as the functionality was right – be a good example of the next-generation of portable computing.
"Google Glass is maybe the thing, but I don't want to comment on that because I don't have Google Glass. I would love to be able to have Google Glass and just talk to it any time I want and ask valuable questions and get those answers, that would be good too."
[via Cult of Mac]