Steve Jobs Yacht freed from impound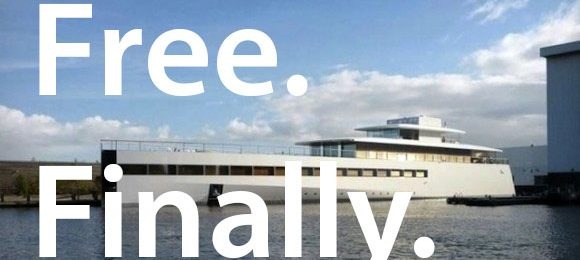 We can now all move on with our lives amid the freeing of the Steve Jobs-commissioned superyacht from impound as the estate and designer Philippe Starck have reached a monetary agreement. This agreement comes after the Starck group Ubik set the ship in impound because of unpaid fees from the Steve Jobs estate. The big news today has the ship set free. It's been a devastating five days that the ship has been stopped from glorious water freedom.
It would appear that Starck's attorney Gérard Moussault has spoken with French daily Le Monde about the situation this week, assuring us all that the Jobs estate had placed a security deposit in a bank account so that the ship could be set free. The amount placed in the account has not yet been made clear. The folks working for Starck had hired a debt collection agency to create a legal order to keep the boat from leaving the Netherlands.
Bloomberg reported that the disagreement included a loose agreement in which Starck would receive 6 percent of the yachts end construction costs. The initial cost of the ship was supposed to be 150 million euros, but according to the Steve Jobs estate, the final cost ended up being closer to 105 million euros – because of this rather sizable difference, the final payment to Starck ended up being 3 million euros short.
The ship goes by the name Venus and has been described several times over the course of the past year. This massive ship is controlled with Apple products such as the set of iMac machines pictured in the one hands-on tour given of the ship this Summer. Have a peek at the timeline below to check out the full epic journey of this beast from rumor to release.