Steve Ballmer shows off Windows Phone LTE for AT&T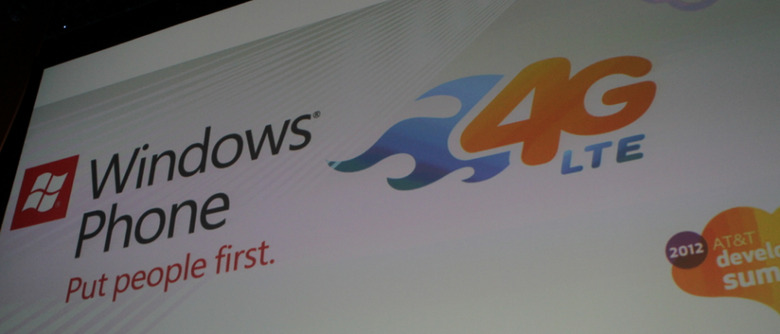 We're having a fabulous time listening to the above-average voice levels of Steve Ballmer of Microsoft as he speaks on how excited they all are that AT&T will be the first group to offer up Windows Phone on their network, the first time Windows Phone will be available on LTE anywhere. The devices he showed off were all new, prepared to be running on the LTE network right out of the box, and would all be out by mid-2012.
Applications were set at the heart of the launch here, believe it or not, and Ballmer's optimism on the products they had out already – Windows Phone and Mango, that is. Enthusiasm, he says, that Microsoft shares, apps publishing at 300 a day and benchmarks being set constantly. Microsoft, he said, believes in creating developer opportunities, no better a time is there in history to be a developer, new hardware and cloud-based hardware set up already and coming soon from the group to add to the storm.
Windows 7 PCs, he notes, are all able to run Windows 8, and the flood is coming on quick. His last thought on the matter, before the devices were dropped, was that developers, developers, developers were still the top of importance.