Steeda Steve McQueen Edition Bullitt Mustang offers up to 775hp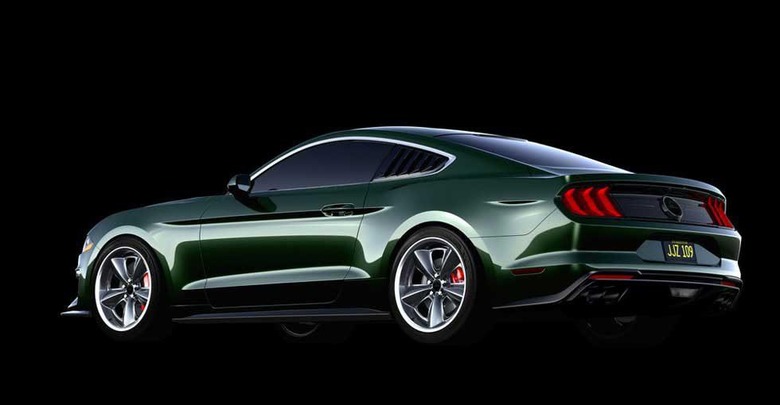 The Ford Bullitt Mustang is already a cool car. We have driven that sweet Mustang and it already has lots of power and performance right from the factory. For those who want more performance and cool Steeda has unveiled the Steve McQueen Edition Bullitt Mustang.
This special edition tacks on $20,995 for starters to the base price of the Bullitt Mustang which starts at over $46,000 alone. The extra $30,000 gets buyers McQueen Racing Performance Suspension Upgrades by Steeda. That includes front and rear sway bars with welded in place solid billet ends. Billet aluminum front and rear sway bar mounts, IRS subframe bushings, bracing, and alignment kit. Special springs and tuned struts and shocks are fitted for non-MagneRide versions.
The car gets a special cold air intake and a performance tune promising 500hp, a special short throw shifter, and special wheels among other things. Those wheels are fitted with Nitto NT555 G2 tires in 275/35-20 front and 315/35-20 rear. The inside of the car is fitted with special sill plates, floor mats, and serial number plates.
The outside of the car gets an aerodynamic front fascia enhancement package, rear quarter window louvers, hood strut kit, rear deck lid emblem, and a car cover. Steeda also gives buyers all sorts of accessories like a letter of authenticity, engraved key fobs, signed artwork by Chad McQueen, the son of Steve.
There are some cool options that will drive the price up, the most notable is a Steve McQueen edition Whipple supercharger upping the power to 775hp. Buyers can also opt for upgraded brakes, carbon fiber driveshaft, upgraded half shafts, a rear seat delete, and a four-point roll cage. Only 300 units will be offered per year and they can be ordered directly from Steeda Certified Ford Dealers.
SOURCE: Steeda