2019 Ford Mustang Bullitt First Drive: Back To Its Roots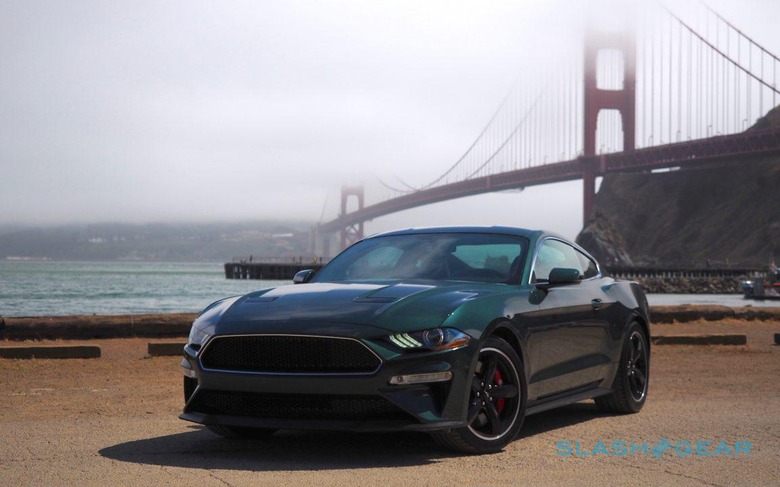 There's a risk, when you make a movie tie-in like the 2019 Ford Mustang Bullitt, of veering into pastiche. The most memorable part of the classic film, which saw Steve McQueen and his '68 Mustang take on the steep hills of San Francisco in an epic 10+ minute chase scene, holds up fifty years later, even if the city today is a congested nightmare of Ubers and electric scooters with a few autonomous prototypes threading their way through the mess.
In those conditions, you'd be forgiven for questioning whether the ethos of the Mustang Bullitt is too far removed from what modern driving has become. At $46,595 (plus $900 destination) it's certainly an affordable way to get behind the wheel of a 480 horsepower V8. However it comes with a commitment to the stick-shift, and minimal electronics to over-complicate matters – or to finesse them, depending on your point of view.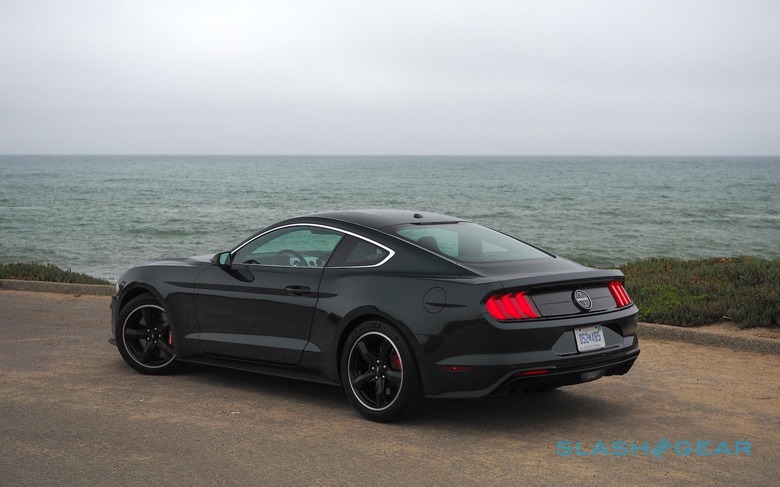 The aesthetics proved unexpectedly controversial among those I polled for their opinion. Personally, I think the Mustang Bullitt looks great with its logo-free grille, minimal smattering of chrome, 19-inch black wheels, and of course that Dark Highland Green paint job. You can order it in Shadow Black, too, but you shouldn't. Others, though, weren't so convinced by the debadging, though I love how visually broad it leaves the Mustang's snout as a result.
Inside, it's a little less successful. The Mustang's new-for-2018 digital instrumentation is standard on the Bullitt, and you get brushed faux-metal detailing and that all-important cue ball gearshifter, but it struggles to lift the cabin's inherent budget feel. Elephant-butt-textured plastics and switchgear masquerading as metal belie Ford's attempts to life the coupe more upmarket. They're forgivable if you're paying $26k for an entry-level car; less so when you reach almost double that.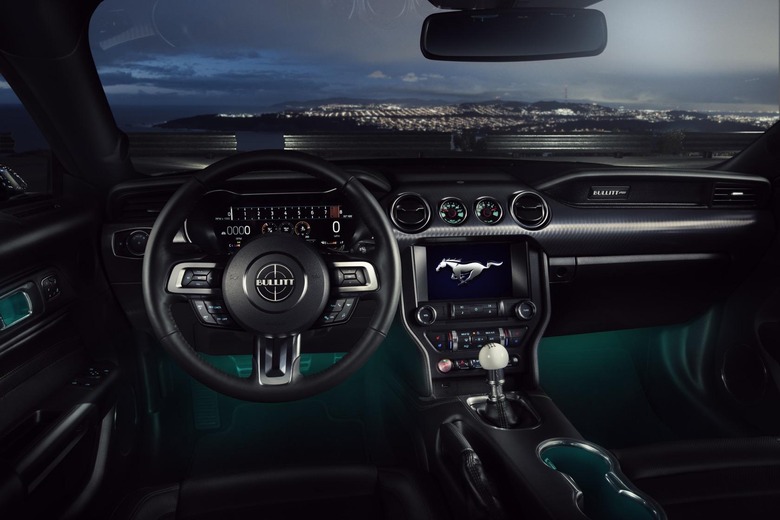 SYNC 3 has its frustrations, too. Ford's infotainment would've done better with a reskin to match the Bullitt theme at least – there's some green contrast stitching in the cabin that looks good, but far too little of it, along with a blink-and-you-miss-it custom loading graphic when you start the car up – and it could've distracted you from the disconcerting slowdowns, particularly in the navigation system. You really shouldn't have to wait more than a few seconds for lists to scroll or button-taps to be recognized.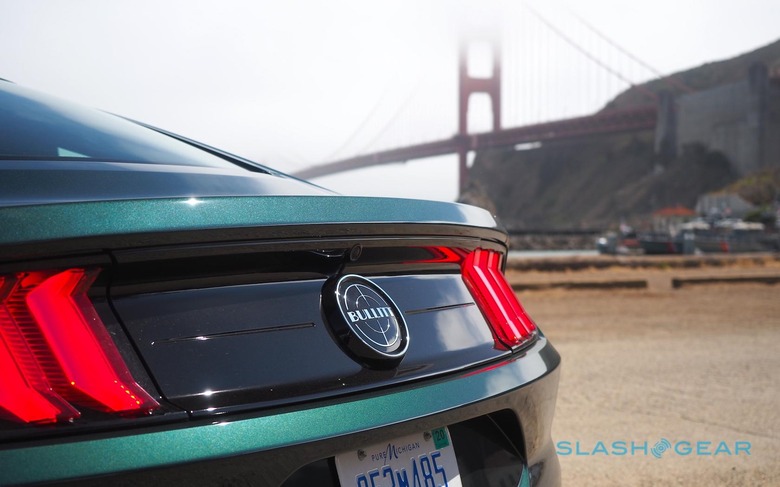 Otherwise, though, this is a fast car. Ford takes the 5.0-liter Mustang GT as its starting point, coaxing 480 horsepower and 420 lb-ft of torque from its V8 engine. There's the Mustang Shelby GT350's intake manifold, a larger, 87mm throttle body, and a performance open air intake; 0-60 mph arrives in 4.1 seconds, while top speed rises by 8 mph over the donor car, to 163 mph.
As I learned in the twisting roads south of San Francisco, though, there's plenty of fun to be had when you're far from that maximum. The Mustang Bullitt's standard 6-speed manual gearbox is slick enough, and its clutch just light enough, that you shouldn't bemoan the absence of a convenient automatic option. Better still, there's torque galore in second and third gear, the transmission snicking between the two as you surge and sweep through a progression of tight corners and sharp changes in elevation. Ford reworked the throttle mapping and the result is a coupe that urges you on playfully.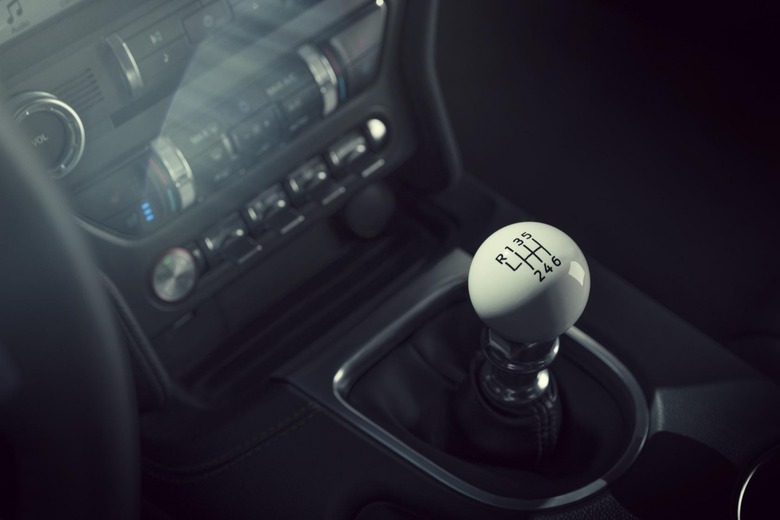 Like in the movies, the soundtrack is key. As with the regular GT, the Mustang Bullitt has Ford's three-stage active exhaust system, though here tuned a little differently for the limited-edition car. You can notch it down to neighbor-pleasing levels, or crank it up to really hear the car howl. It's a seductive, burbling noise: a reminder that, though turbocharging and supercharging have their place in both performance and economy, there's still something inherently pleasing about naturally-aspirated engines. The Bullitt blips automatically on downshifts, Ford adding rev-matching to its manual for the 2019 model year, and all the while the NitroPlate quad-tip exhaust gurgles happily.
Maximum torque doesn't arrive until 4,600 rpm, but there's more than enough to play with on your way there. Meanwhile, the standard Brembo brakes – with their red-painted calipers – shed speed with proficiency. There's a mechanical directness to the whole thing which serves to remind you just how far most modern performance cars place you from the action, though the $1,695 MagneRide suspension option brings a well-injected shot of tech to proceedings.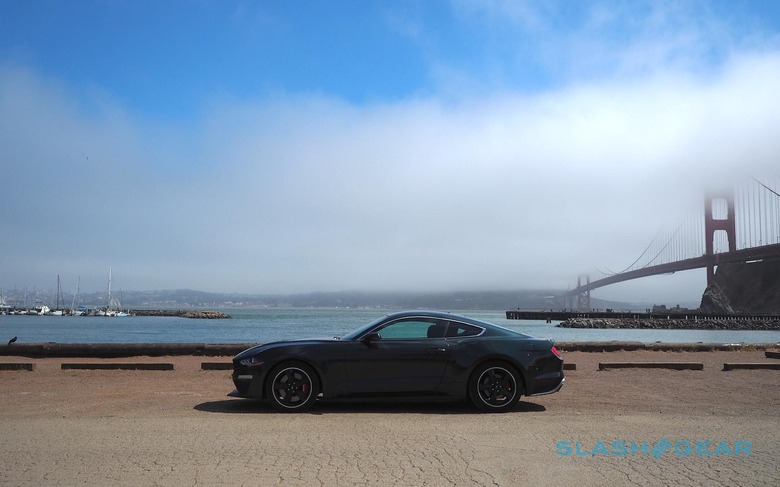 There's a lot to be said for accessibility, just as McQueen found. Accessibility of pricing, of power, of a driving experience – sound, speed, and stability – that rewards the enthusiast but doesn't charge them the earth for it. Sure, the interior and its parts-bin switchgear is a reminder that you're not too far from Ford's more mundane models, but that also means accessibility of servicing and maintenance.
When the original movie car, arguably more the star of Bullitt than Steve McQueen ever was, was rediscovered after more than forty years, the 1968 Mustang could've been painstakingly restored. Instead, it's been left pretty much as-is: a roughly 98-percent original triumph of authenticity. Much in the same way, the 2019 version that bears its name in tribute has an authenticity that beguiles you.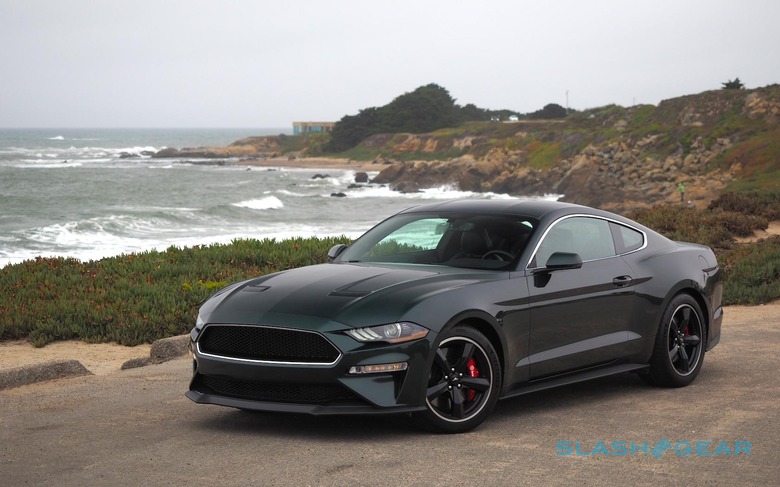 It's rough and ready, plays to its most pleasing strengths, and most importantly it's obtainable. Beyond however many of the limited-edition 2019 Mustang Bullitt cars Ford decides to make, too, it's a reminder of the regular Mustang's own charms. No CGI or special effects here, just good old-fashioned engineering and displacement.