Steampunk Monitor mod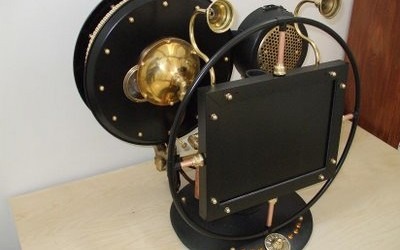 We've seen Steampunk monitors before, but I'm a sucker for misappropriated piping and so here's another, this time courtesy of Australia-based Mad Uncle Cliff.  Based around an LCD panel, the mod uses copper piping, a spray pump to hold the controls and a pair of endearingly-alien speaker horns.
A swing-arm for repositioning the display is made up of half-inch pipe, with a couple of elbows to let it all fold back against the stand when not in use.  Tilt is handled by a small knob that locks the screen in place.  As for the speakers, they're a combination of brass bells, flyscreen mesh and a couple of 40mm speaker cones.
Next on Cliff's task list is the monitor control section and then the keyboard.  In case you're wondering, the large round section at the back is actually the PC itself; this is an all-in-one Steampunk computer.
[via MAKE]