Steam Winter Sale Heralded By November Top Releases: Gundam, GoT, Star Wars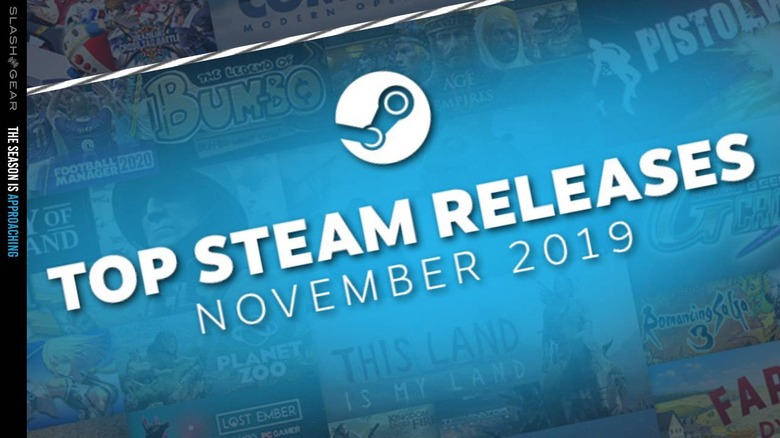 This morning we're taking a look at the latest in a series of Steam's best-of game release lists for the month of November. These releases are compiled in the first week or two of the month after they're captured. The Top Steam Releases for November 2019 include some obvious entries from big-name game titles, but also has its fair share of shockers.
The releases shown here are shoe-ins for potential Steam Winter Sale entries. The Steam Winter Sale begins this week – on Thursday, the 19th of December, 2019. That sale will decimate your pocketbook, if it wasn't already ripped asunder by the beast that is the holiday season.
Top for revenue generated
The games Ratropolis by Cassel Games, Planet Zoo by Frontier Developments, and Pistol Whip by Cloudhead Games might throw you for a loop on this list. They're made by developers that don't often appear in headlines, that's for certain. But they've made for some releases that've blasted their way to the top of the ranks for this November 2019, so they're all worth a look!
Also on the list of top releases for November is Romancing Saga 3 by Square Enix and ArtePiazza, Kritika:REBOOT by ALLM Co., Ltd., and the war-oriented Unity of Command II by 2x2 Games and Croteam. Another war strategy game appearing this month was Command: Modern Operations, by the group called Warfare Sims.
The strangest entry on the list is The Legend of Bum-Bo, as developed by Edmund McMillen, James Interactive, and Ridiculon. Don't go into that particular title expecting a lack of poo-related jokes.
It should come as no surprise that this list contains the re-release of one of the most entertaining war strategy games of all time, Age of Empires! This time it's Age of Empires II: Definitive Edition, by Forgotten Empires and Tantalus Media. Less obvious is the appearance of the Blueside-made game Kingdom Under Fire 2!
• Football Manager 2020 – Sports Interactive
• Automation Empire – DOG HOGGLER
• BlazBlue Cross Tag Battle – Arc System Works
• This Land Is My Land – Game-Labs
• Farmer's Dynasty – Toplitz Productions & UMEO Studios
• Lost Ember – Mooneye Studios
• Sniper Ghost Warrior Contracts – CI Games
• SD GUNDAM G GENERATION CROSS RAYS – TOM CREATE – 株式会社トムクリエイト
The most obvious inclusions on this list are STAR WARS Jedi: Fallen Order by Respawn Entertainment, and TERMINATOR Resistance by Teyon. Say your shocked by either game making bank and I, in turn, will be shocked at you.
Top free-to-play releases
This top five list was generated using peak concurrent player count in the first two weeks following release. As should be obvious right out the gate, deciding on cut-off points and counts with this category aren't immediately apparent, hence the time it takes – amongst other calculations – for this list to make it to publish time.
The following list is made in no particular order – they're all pretty similar in concurrent-user counts. Here's where you'll find the Game of Thrones business, surprisingly – even though we're several months out from the release of the final episodes!
• Stay Out – Mobile Technologies LLC
• Kritika:REBOOT – ALLM Co., Ltd.
• Game of Thrones Winter is Coming – YOUZU (SINGAPORE) PTE. LTD.
• Warhammer: Chaos and Conquest – Hunted Cow Studios
• 罪業狂襲FrenzyRetribution – FrenzyZoneGameworkshop
These games can all be found on Steam – make sure you're getting the right title with the right developer. Most games have titles that are unique enough not to get tricked by a faker. Either way, we're on Steam here, so the curation process that allows copycat apps on other platforms isn't so much a factor... so you'll probably be fine!