Steam is down, it's not just you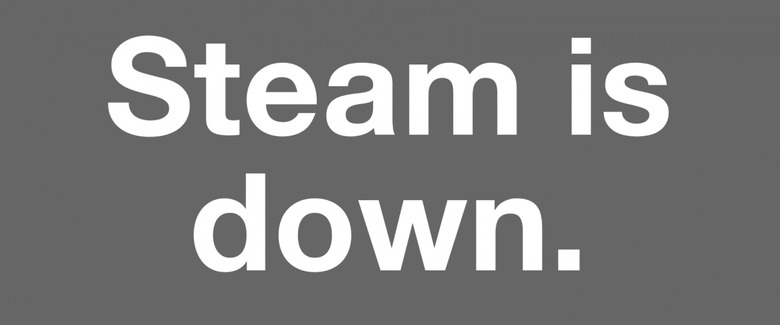 This morning at around 12:15 PM Central Time (immediately after noon) Steam went down for the count. While some users reported that Steampowered.com had been down for a period earlier today, then back on at around noon, the Steam network is down at the time this article is published. Users have been reporting problems for approximately 15-20 minutes at this point.UPDATE: If it is Monday, March 17th when you read this, you're going to want the new Steam is Down post – the one you're in now is from last week.
It would appear that Steam suffered a service disruption (specific, we know), at around 12:15 PM CST. At the moment it is not know what caused the disruption, nor when Steam's many servers will be back up and running in full again. This disruption seems to have affected the Steam store as well as some gameplay – though we're not as entirely convinced on the latter half.
According to SteamStat.US, the Dota2 Game Coordinator, Team Fortress 2, and Counter-Strike GO are all at "NoConnection" status, while the SteamDB Database is "normal." Both the European Steam Client and the USA-based Steam Client are at NoConnection as well, while around 1,404,220 users are logged on with Steam – this is a -75.64% logged-on state compared to normal.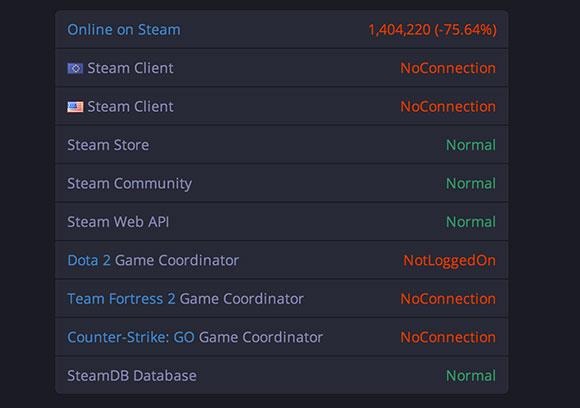 For more information you can check SteamStat.US as well as IsSteamDown.com for information on servers in general. Meanwhile you can also head down to our recent Steam archive for more Valve than you can handle. Have at it.