Steam Controller revealed: the missing link for SteamOS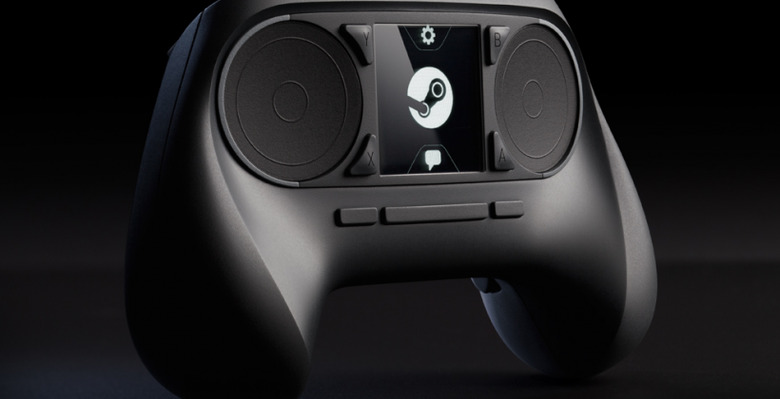 The third of three binding announcements has been made this week surrounding Valve's big move toward living room gaming: SteamOS, Steam Machines, and now the Steam Controller. This machine is a next-generation solution to the relatively stagnant state of gaming controllers in the market today, working with two large trackpads, haptic feedback, and a touchscreen in the middle. There are a total of 16 buttons and/or pads on this single controller, and it'll be entirely wireless, too.
What you'll have seen in our recent interview with NVIDIA is that they and Valve have been working overtime to bring on not just an optimized experience in SteamOS, but a best-in-class experience with wireless control. There'll be so little lag in this experience that you won't even notice it – that's the goal. Based solely on what we're seeing right this minute with the likes of NVIDIA SHIELD, there's very little left for them to do in this arena.
NOTE: Don't get it twisted – at the moment there's no word from either NVIDIA or Valve in connections between SHIELD and SteamOS – for all we know, they're completely separate, and they'll be separate forever.
One example of how the buttons you'll see on this controller is in Portal 2, as shown in the guide in this article. Here you'll find "Steam Defaults" to have set controls for every single one of the buttons or pads on the device, including two on the back. In this case you'll also find the touchscreen to be turned to four buttons – four quadrants of a rectangular space.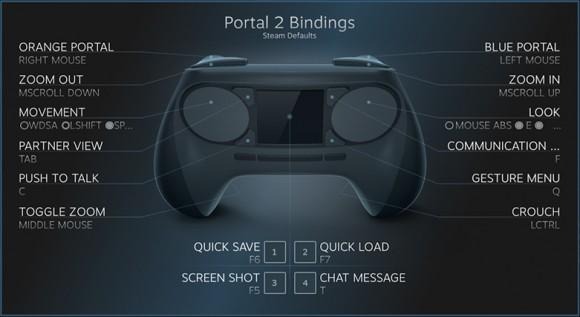 This controller setup also shows the symmetrical nature of the controller – this device is not going to be made for lefties or righties in any way whatsoever. True to form with this SteamOS project thus far, this controller will be open to hacking and changing to the desires of the user. "Binding" is the key – and Steam will be sending out a configuration tool to make this process as simple as possible.
Furthermore as none of the games in the Steam catalogue today have been built with the Steam Controller in mind, the device works out of the box as a keyboard and mouse. There will also be an ever-growing list of pre-set configurations available for games that players are prone to play.
Below you'll also see the ultra-simple nature of the hardware included with this device. This is a machine made to be modified as much as it is made to be used as-is right out of the box.

Have a peek at the rest of our SteamOS archive and make sure you're up-to-speed on this operating system as well as the Steam Machines and the Steam Controller before they're all out in the wild! It won't be long now before the first wave of prototype devices hits the houses and living rooms of Steam-lovers galore – and we'll be bringing you the low-down top to bottom!