Steam Community getting 'major' update, Game Hubs detailed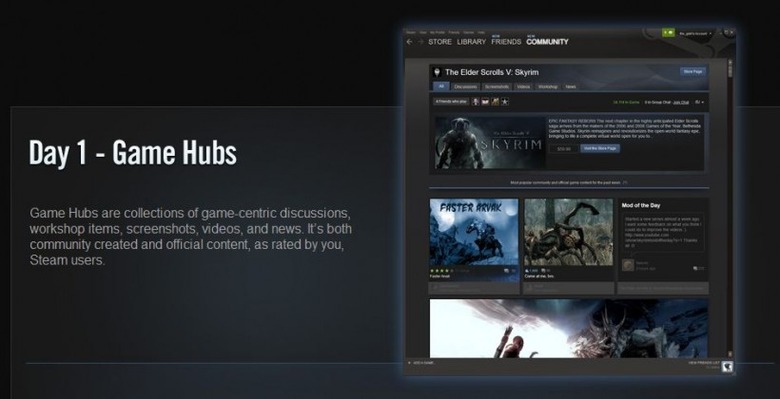 Valve has announced that the Steam Community will soon be going through a major change, but like everything Valve does, it's revealing this "major" update at its own pace. That is to say that Valve will be announcing a new feature every day this week, and today we were introduced to Game Hubs. A Game Hub serves as something as a catch-all for the content related to a game, and every title available on Steam will be getting one.
As you may have figured out by now, Steam lets you do a lot of things with the games you buy. You can take screenshots and record videos, and some games come equipped with support for the Steam Workshop, where you can find and download mods. In additional to all of that, there are also articles from Steam's gaming site partners, along with comments and discussions from the Steam community. Game Hubs bring all of this content together into one place, so you can see everything the game has to offer easily.
Speaking generally about this incoming update, Valve's Emily Kent said that this is geared toward giving "the best" user-created content some additional exposure. "The New Steam Community is all about showing off the best content that gamers have created," she said. "With over 89 million screenshots, videos, Steam Workshop maps, levels, mods, and items, plus news articles and product updates, the community has created an unbelievable wealth of content around their favorite games."
There's no ETA for this "New Steam Community," but Valve says that a beta will be kicking off soon. We're not sure how to get into this beta quite yet, so for now you'll need to be satisfied with the knowledge that beta is on the way. Keep an ear to SlashGear, because we'll have more details about this Steam Community update as Valve releases it.
[via Steam Community]