Steam autumn sale kicks off with deals on XCOM, Darksiders II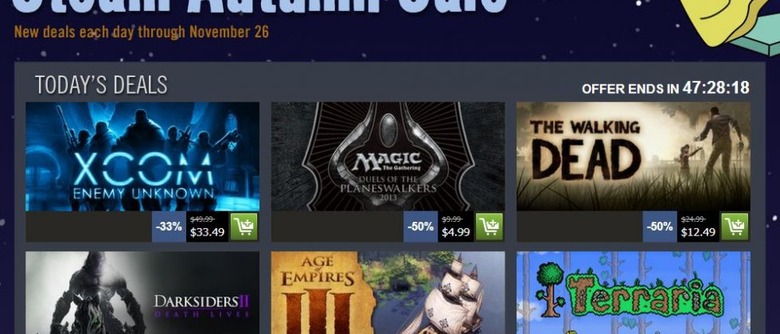 Just as the prophecy foretold, Valve has started the long-awaited Steam autumn sale. The autumn sale may traditionally be outshined by the longer and larger holiday sale, but there are still some pretty excellent deals to take advantage of right this minute. For instance, some of the featured deals include Darksiders II at $16.99 (that's 66% off) and XCOM: Enemy Unknown for $33.48 (33% off).
Rounding out the featured deals, we have Magic 2013 half-off at $4.99, Terraria for a measly $3.39, The Walking Dead for $12.49, and Age of Empires III Complete for $9.99. Those are some pretty deep discounts, but then, what else would you expect from a Steam sale? Of course, featured deals are only one part of the equation, as there will be plenty of other deals to take advantage throughout the duration of the autumn sale.
These include flash deals, which pop up on the Steam store for a short amount of time and usually feature some pretty tempting offers. Current flash deals include the entire Operation Flashpoint franchise for $12.49, Limbo for $2.49, and Payday: The Heist for $4.99. If you're more of the indie gaming type, you'll be pleased to know that Steam has you covered with a dedicated hub for indie gaming deals. Today's featured indie deals have Sanctum, World of Goo, Cave Story, and Audiosurf all down to just $2.49.
The featured deals will change daily and the flash deals will switch up even more frequently, but it's worth pointing out that there are plenty of other discounted games available through Steam, despite them not having featured status. The Steam autumn sale will go until November 26 (that's next Monday), after which time things will go silent until the Steam holiday sale kicks off. That's apparently going to happen on December 20, so you might want to hold off on spending all of your money during the autumn sale.