Starship Technologies and Mercedes team for Robovan robotic delivery van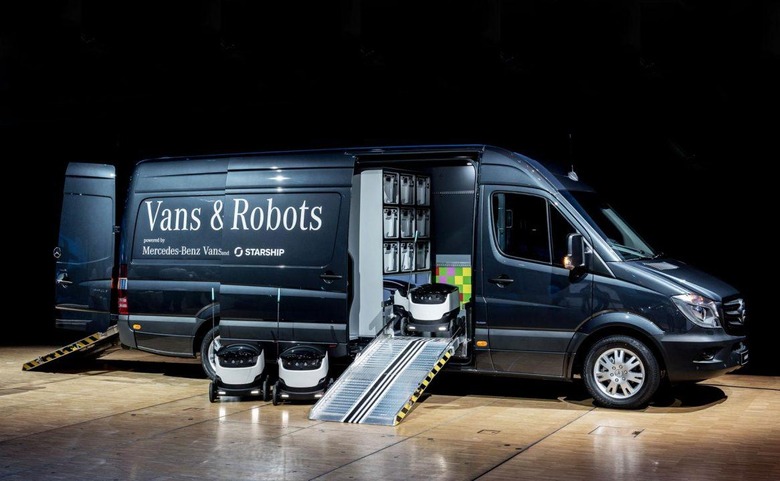 Starship Technologies first came on the scene with the little autonomous sidewalk robots that look like coolers on wheels designed to cart goods around neighborhoods for the final delivery to the buyer. Starship Technologies has now announced that it has teamed up with Mercedes-Benz Vans to develop a new transportation system called Robovan. This system will use special vans combined with autonomous delivery robots to allow efficient delivery of items in neighborhoods.
The entire system would be semi-autonomous with the Sprinter vans from Mercedes as a mothership capable of hosting eight of the delivery robots. The idea is that the vans would drive through a neighborhood and then stop in certain locations and disgorge the sidewalk robots. After the small autonomous robots make their deliveries, they would return to the van to be carried to the next location.
"Starship Technologies has solved the last mile problem by introducing sidewalk delivery robots. However, vans are best suited to bring goods to the local area from businesses and distribution centers. When the two transportation methods converge into one, the outcome is the most efficient, cost effective and convenient local delivery method in the world", said Ahti Heinla, CEO of Starship Technologies.
Starship Technologies says that using the Robovan system with robots inside, 400 packages could be delivered for every nine-hour shift. Current delivery methods where drivers deliver items to each door see 180 packages delivered over the same time frame.
"A typical van delivery today involves driving to a delivery area, and then spending an entire day on door-to-door deliveries. By leaving the door-to- door part to delivery robots the van drivers' productivity will significantly rise while reducing congestion on the streets and CO2 emissions," said Allan Martinson, Starship's Chief Operating Officer.
SOURCE: Starship