Starship Technologies now testing self-driving delivery drones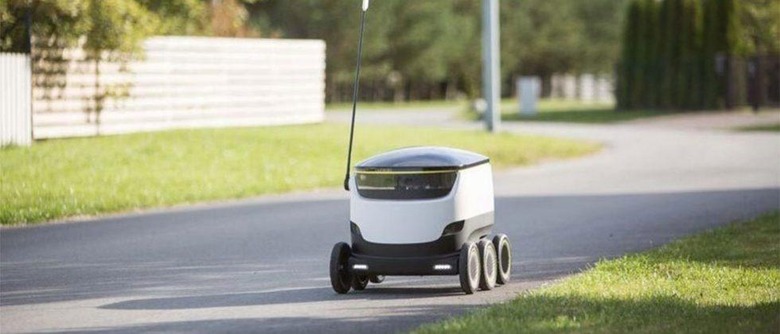 In November of last year, we talked a bit about a company called Starship Technologies that wanted to deliver packages to your door using little autonomous drone vehicles that look like a cooler on three wheels. Starship has anncouend that it has now launched its testing program for self-driving delivery robots in cooperation with major industry partners. Partners in the delivery program include Just Eat, a European food delivery firm, Hermes (a German delivery service), Metro Group, and a food delivery startup in London called Pronto.co.uk.
The test program will see dozens of robots deployed in five cities to test delivery and introduce the autonomous drones to the general public. The robotic delivery agents are designed to deliver packages, groceries, and food to customers in a 2-3 mile radius. Human operators in control centers monitor the autonomous delivery agents.
Some of the robots were tested last year in European and American cities have racked up over 5,000 miles with no accidents. Testing for the drone deliveries will be conducted in London, Düsseldorf, Bern and another unnamed German city. Other European and American cities will begin testing later. It's unclear if these autonomous vehicles are designed to operate in the street like a car or on sidewalks with pedestrians.
"The partners we're working with are at the top of their game – passionate, driven and quick to embrace new technology, making them the perfect choice for us to truly demonstrate our robotic delivery solution," said Allan Martinson, Chief Operating Officer of Starship Technologies. "We're sure to come up against challenges on our journey, but our aim will never change – to re-define convenience and customer service for the consumer, whilst making the last mile industry for businesses cost effective, efficient and profitable."
SOURCE: Starship