Star Wars x Otterbox portends The Last Jedi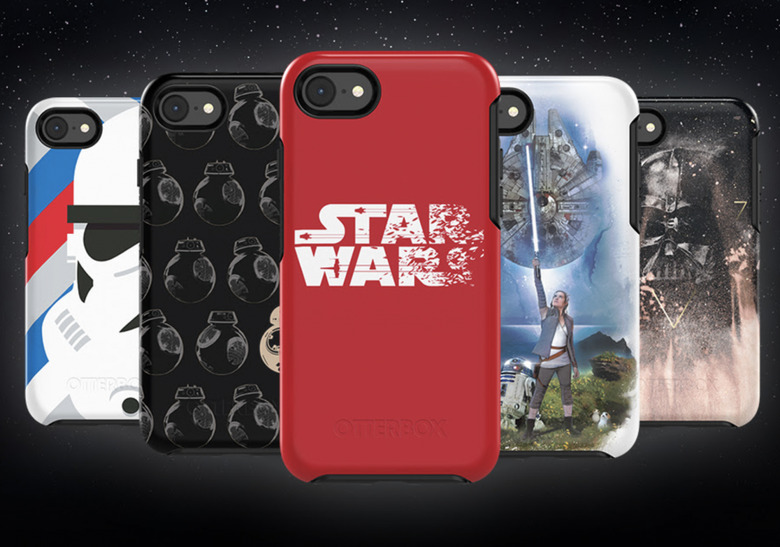 This week the folks at OtterBox are bringing that sweet, sweet Lucasfilm licensing action to iPhone cases. A limited set of hardcore cases are coming with Star Wars on their backs from the company responsible for some of the most hardcore cases for any object, ever. Included in the collection is a Lord Vader, Rebel Red, BB-8, Storm Trooper, and On Ahch-to.
The Rebel Red case features the Star Wars logo with cut-out images of X-Wings flowing through. The BB-8 design is a series of white base BB-8 images with a single more filled-out BB-8 to compliment the case. The Storm Trooper design (is actually a stormtrooper) and includes a super-simple flat (material design-like) image with red, blue, and gray in its background.
The Darth Vader design is probably the most classic of the pack, featuring a triangulated Vader amid a starfield and extreme light red flames below. This Vader design is likely set to be the most popular of the crew, while the "On Ahch-to" design is the most "The Last Jedi" specific. There we find Rey holding the infamous Skywalker lightsaber high, standing near R2-D2 and a set of porgs. In the background flies the latest version of the Millennium Falcon.
These cases are made for the iPhone 7 and iPhone 7 Plus, and fit the iPhone 8 and iPhone 8 Plus as well. Each case is part of the Otterbox "Symmetry Series," which means each case "protects your iPhone from the dark side of phone ownership with a slim and sleek form." Each case is what Otterbox describes as "dual-density," rolling with external backside protection, thick edges, and a bevel up front to protect the iPhone's display.
This release of the Symmetry Series Star Wars Collection will be released in advance of the release of Star Wars: The Last Jedi. That film comes out in December of this year – next month! These cases go on sale immediately – if not soon!
Each of these cases will be available first on OtterBox dot com, then will likely be in stores where OtterBox products are sold very soon. The iPhone 7/8 design will cost $44.95 and iPhone 7 Plus/8 Plus design rings in at $54.95. NOTE: Consider these a tag-along add-on to our Star Wars gift guide this holiday season.