Star Wars virtual keyboard taps R2-Q5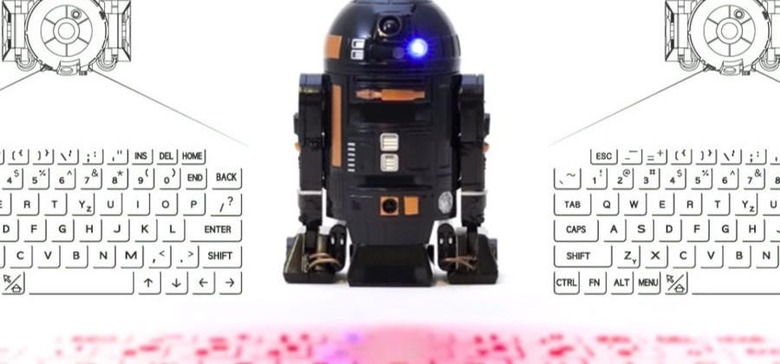 The original R2-D2 virtual keyboard is gone. It's forever on the shelves and in the display cases of collectors around the world, for the rest of time. For those of you that missed it, there's always the imperial droid R2-Q5, his black and orange-ness, as we call him around here. This fellow is being released by the same company that originally released his R2-D2 equivalent, and this version will be released on May the 4th, 2015, just in time for the most important holiday of the entire year.
This comes from electronics brand imp., formerly known as "amadana imp.", and it'll be rolling your way with just as limited an edition as the original. This piece of equipment works with iOS, Android, and Windows 7/8 or Mac OS X. You'll be tapping away on a virtual keyboard working with lasers and Bluetooth HID.
The company suggests that you'll be getting some original R2-Q5 sound effects with this model, but we all know good and well that basically every R2 unit has the same set of pre-made audio abilities, so there's that.
Don't mistake it for R2-D2, that much we can warn with impunity. Below you'll see the R2-D2 version "how to" movie.
You'll only be able to get this lovely machine from Amazon Japan, of all the strange places, for a cool ¥39,000 JPY (approximately $325 USD). A total of 500 units will be made.
There's a good chance you'll see a few of these floating around SDCC later this year or Star Wars Celebration in May – have at em!