Star Wars TOR staff cut as player population falls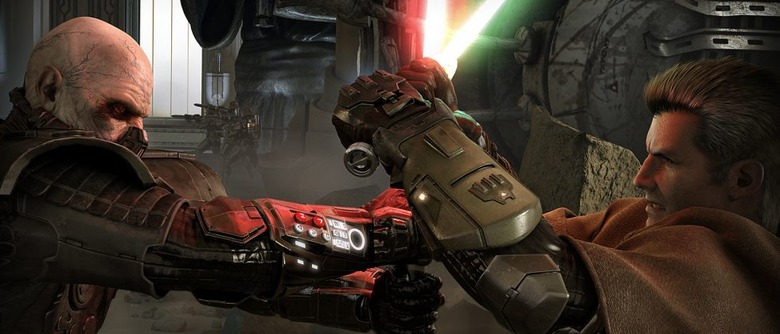 Though BioWare has not tied the two situations together as thus, the fact that Star Wars : The Old Republic has already lost 400,000 players since launch and that they've got a new set of layoffs in their staff on the books is fairly clearly connected. What we're seeing this week is the CEO of BioWare Ray Muzyka announcing with co-founder Greg Zeschuk that they'd be saying "farewell to some talented, passionate, and exceptionally hard-working people" from the Star Wars staff. Hopefully this does not point toward an end-of-life sequence for the game itself.
The BioWare team would of course have you believe that the game is just getting started – as it certainly is – and that their newest additions to the game should have the players thinking about exiting in a turnaround. BioWare "still has a substantial development team working on supporting and growing the game." This note comes aside a request from BioWare that "with your continued involvement and feedback, to continue to build Star Wars: The Old Republic as one of the most compelling and successful online experiences in the world today."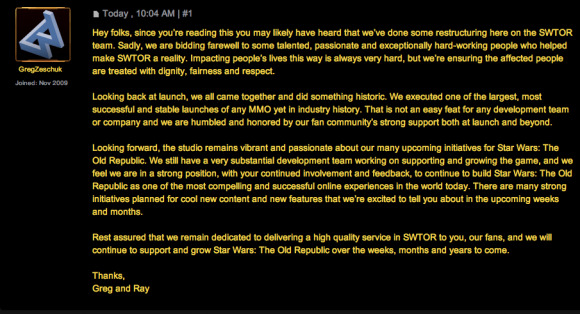 What we've seen thus far of Star Wars: The Old Republic's universe is that it does indeed hold many fine features that must be assumed here in this very adept MMORPG world, but that BioWare simply does not hold the sway in this realm that titans like Blizzard Entertainment do with games such as Diablo III and World of Warcraft. BioWare lets everyone know today that their upcoming update to the game: "v1.3 Allies" will be bringing the fury with legacy perks, group finder tools, adaptive gear, and an update to the Alderaan war zone.
"There are many strong initiatives planned for cool new content and new features that we're excited to tell you about in the upcoming weeks and months." – BioWare
[via SWTOR Forum]