Star Wars: The Rise of Skywalker Pasaana Speeder LEGO Review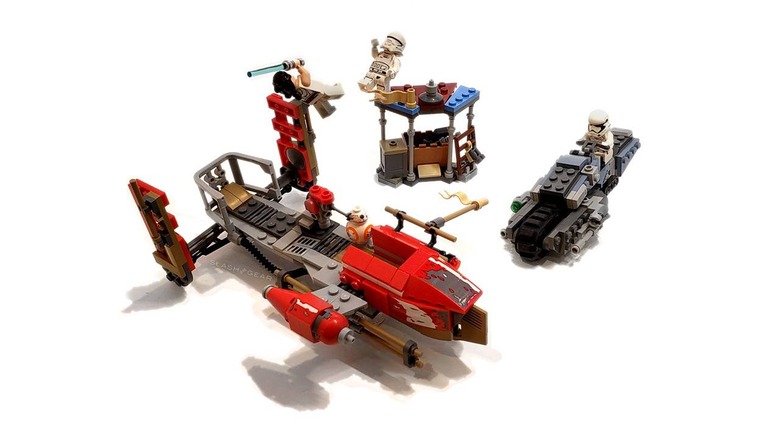 The LEGO set we're looking at today is from the first collection of Star Wars: Episode IX The Rise of Skywalker. This set goes by the name of "Pasaana Speeder Chase" with set number 75250. This set features a radical bit of action from the 9th film in the Skywalker Saga, and includes minifigures of Rey, a First Order Jet Trooper, a First Order Treadspeeder Driver (or you could just call them both stormtroopers if you did so wish), and a BB-8!
This set included a wild variety of LEGO bricks, some fairly common, some rare, some brand new (for the month of October, 2019*), and at least one that reminds me of building LEGO buildings back in the early 1990s. — It's a real, real old-looking brick, of that you can be sure.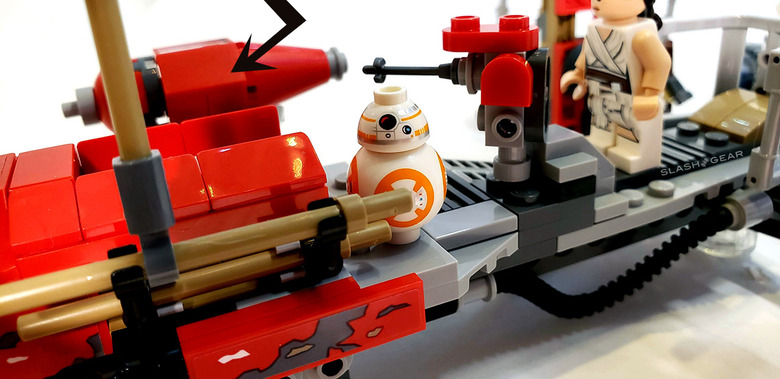 The old brick of which I speak is a four-peg square with a very slight peak on top. You'll see it on the side of the big red engine on the right side of the red speeder – you'll know it when you see it (marked with an arrow above).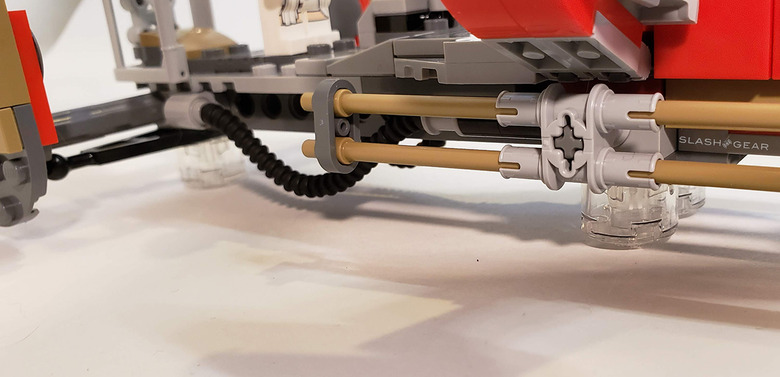 The red speeder is held aloft with a set of transparent pieces. These transparent pieces have glider bricks below, for optimum slide.
*Pieces that are new for this set – new for LEGO sets for October, 2019, include a molded rocket element and a Jet Trooper rocket element.
Stickers come with this set – stickers that are detailed enough to fit in the Star Wars universe, but general enough that they could easily fit in almost any other sort of set. They're in place to give the impression that the parts here are "weathered" – like this speeder's seen a lot of action.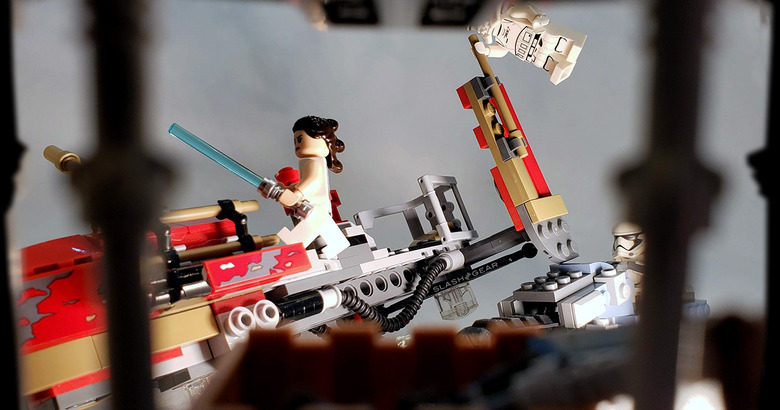 Rey is here with a blue-bladed lightsaber, and BB-8 is onboard looking just about as un-weathered as we've ever seen him. A pair of rather clean-looking troopers (as mentioned above) are also in the mix. And I say "clean" because in the past, when we've seen troopers on a planet such as Pasaana (for example, Tatooine), they've looked a whole lot more rough. SEE: Tatooine Sandtroopers, and Mimban Mudtroopers (re: SOLO.)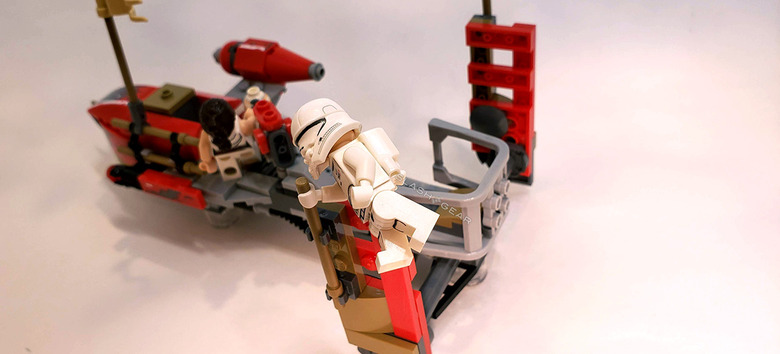 But who's to say? Maybe this pair of troops takes extra special care of their armor, buffing the plates each night when they get home. In any case, one has a rocket pack on his back, and the other has just about the coolest looking one-person speeder that's ever appeared in the Star Wars universe. Rubber treads and everything!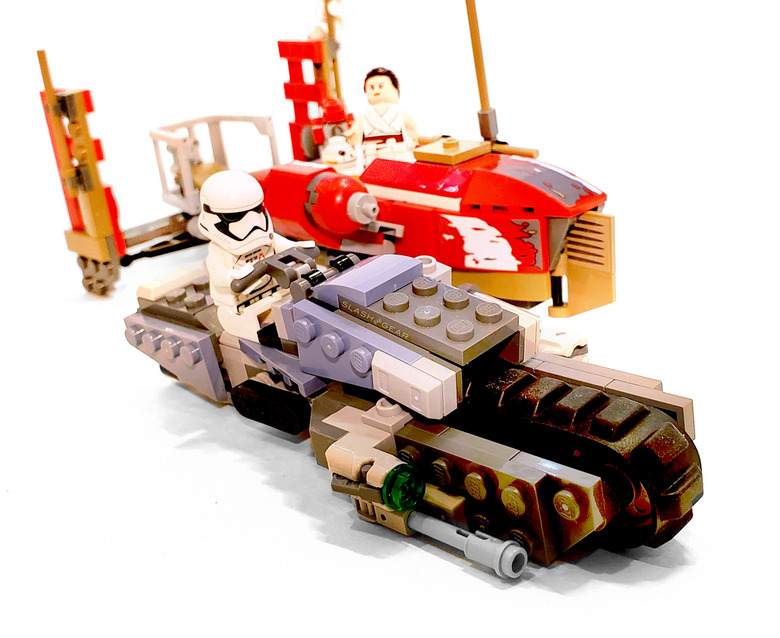 You'll find that the little shop in the background here has a pair of bins, one with a set of tools, the other that's empty (unless you fill it with whatever the plot of the movie implies). OF NOTE: This set contains more spare pieces (after the whole set is built per the instructions) than can fit in this little bin – that's quite a few!
That smaller bin fits right in the cockpit area of the red speeder. Press photos from LEGO show the bin both in the construct and on the speeder – two plot points.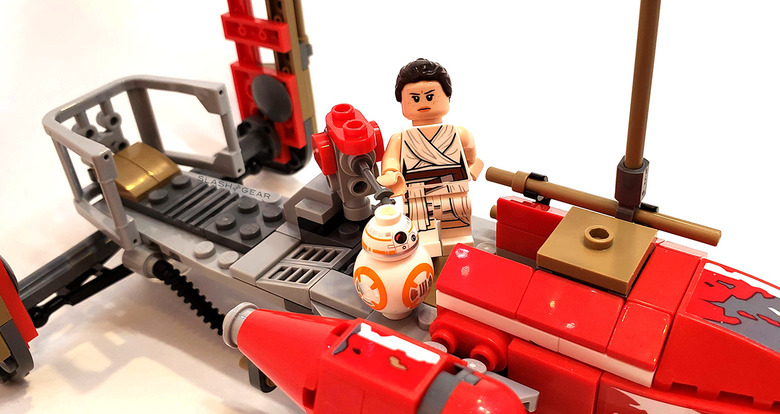 This set is perfect for a rainy (or soon snowy) afternoon whilst waiting for the next Star Wars movie or television show episode to launch. Mind the age suggestion on the box – this one's got a whole lot of very tiny pieces.
This set goes by the name "Pasaana Speeder Chase", LEGO set number 75250, is on sale now from the LEGO Store online and most likely at your favorite LEGO-toting retail outlet. You'll find this 373-brick set available for approximately $40 USD right this minute.