Star Wars Rogue One Toys Review : Action Figures #GoRogue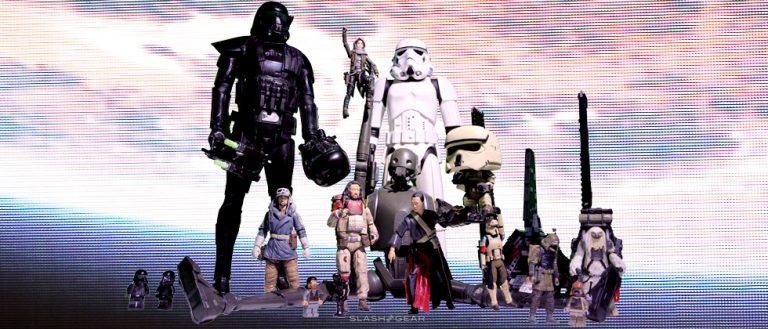 Today we've got our hands on a number of Star Wars Rogue One toys before they're released – and we're going to share the lot up close and personal. We've got a couple of Black Series action figures, a couple of slightly heavier-duty action figures in the Elite Series from the Disney Store, a couple of Hasbro 2-packs (complete with super-absurd mega-weapons), and some JAKKS Big-Figs to crown the massiveness of this collection off. And, as no modern collection of Star Wars figures would be complete without, we've got a couple of brand new Funko Pop vinyl bobblehead figures as well, all from Rogue One.
Disclaimer: All of these Star Wars action figures and toys of all sorts (in this article) were given to us by Disney (without cost) to review early – and in celebration of the Rogue One #GoRogue fan event starting today. More information on that big push near the end of this article. For now – toys and toys and toys.
While a whole lot of other sorts of toys – and movie tie-in products of all sorts – will be released for this Star Wars movie before the premiere later this year, this article focuses on action figures – and not all action figures – action figures that are going to be available in stores in the United States. There are much more expensive toys out there, and toys only available in Japan – we'll talk about those another time.
Black Series by Hasbro
Hasbro's Black Series has been a great middle-point between the least expensive Star Wars action figures and the most insanely over-priced and over-thought. Hasbro does it just right, bringing on an action figure that's not really inexpensive enough to consider for a small child who could care less, but certainly not too expensive to consider as a Treat Yourself (the best day of the year) gift.
We've got Captain Cassian Andor (Eadu attire) here (Black Series #23) as well as Sergeant Jyn Erso (Jedha attire) (Black Series #22). If I had to pick just ONE action figure in the Black Series to get from this Rogue One run, it'd be Jyn Erso – or perhaps K-2SO, but I've not yet actually seen that one up close.
These figures will run around $20 each and, like all other toys in this article, will be in stores starting on the 30th of this month.
Disney Store Elite Series
The Disney Store has a set of Star Wars action figures they call the Elite Series. They're made by Disney and they're sold in Disney Store physical locations as well as the Disney Store online (sometimes) and through Disney on Amazon (probably your best bet from the start).
These figures are around 6.5-inches tall – basically the same as the Black Series, but they're heavy. They're really heavy. They're die cast – or at least their torsos are – made with metal for some reason we've never been able to adequately understand. Seems like the same thing as a device having a weight added to its innards just to create the illusion of a more complicated machine – full of technology!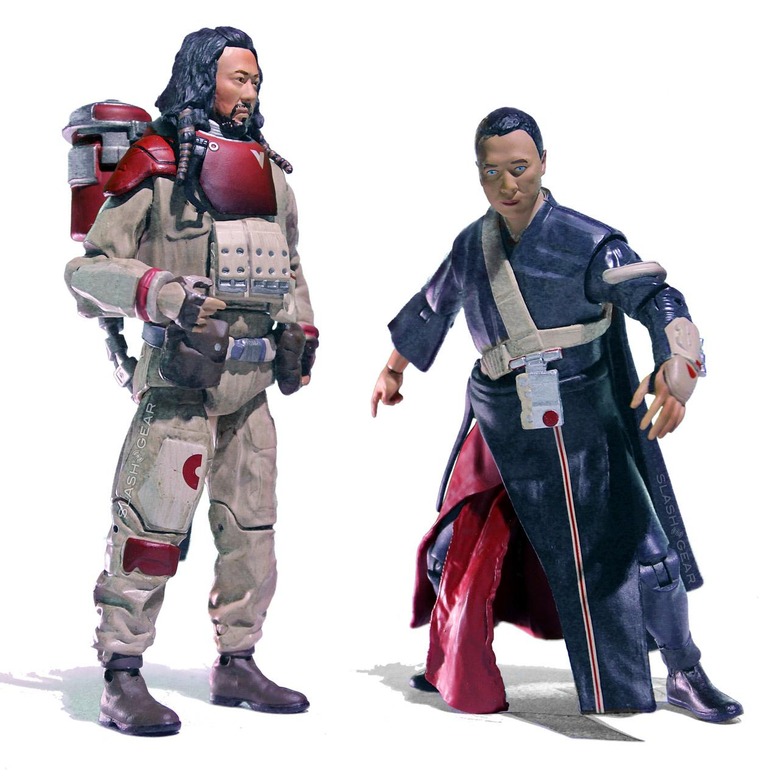 It's like the difference between a piece of Ikea furniture and a build-it-yourself pieces of furniture from a department store – they pretty much do the same thing, and look very similar, but one is a bit heavier and might last a bit longer.
We've got Rogue One's best buddy crime-fighting team here, both available separately. Chirrut Imwe and Baze Malbus are delivered in high detail for $26.95 USD apiece.
JAKKS Big-Figs
These gigantic characters are just about as basic as they get here in 2016 when it comes to Star Wars action figures. They come with moving legs, arms, and hands, and heads as well. What we've got here is a Stormtrooper, a Death Trooper, and K-2SO.
There's an original Stormtrooper figure in here as well, for scale. That little guy is around 4-inches tall and can fit in the palm of the average adult's hand.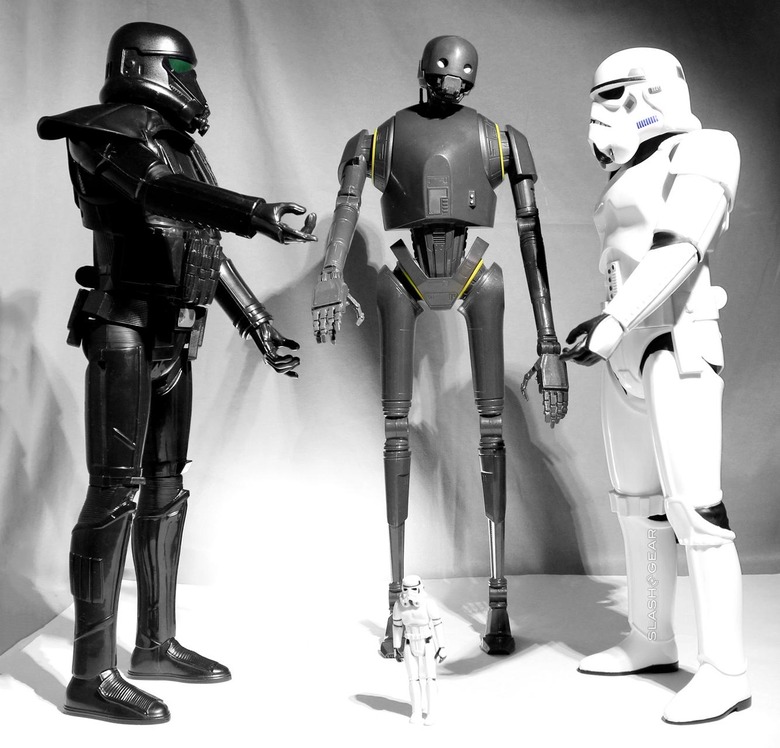 Each of the troopers measure in at 18-inches tall apiece, while K-2SO is just a bit taller at 20-inches. They're all relatively light – made of plastic that's easy to toss around, but at the same time rugged enough to withstand some punishment.
These figures will run around $20 apiece wherever Star Wars toys are sold. JAKKS also sells much more humongous action figures – up to and including 48-inches tall, if you want to have one guard your doghouse.
Hasbro 2-Packs
Along with Hasbro's single-card figures, these 2-packs are amongst the least expensive Star Wars Rogue One figures on the market. Don't mistake low cost for low quality, though, as these figures are far more size-accurate and detailed than the action figures released by Kenner in the 1990's.
If they have muscles, it's because they actually have muscles in the movie. No extra super bulkiness here, that's for sure.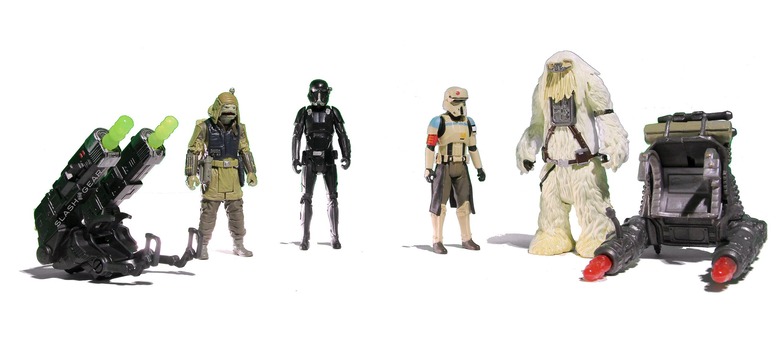 Note, for those folks aiming to match these figures up with all the other sizes of Star Wars figures in the universe today, they're smaller than Kenner's run of toys in the 1990's, quite a bit smaller than the Black Series seen above, and WAY smaller than anything JAKKS makes.
These 2-packs will cost $14.99 USD each. On the left is the Imperial Death Trooper and Rebel Commander Pao Deluxe Pack, while on the right is the Scarif Stormtrooper and Moroff Deluxe Pack.
Note the extra care taken to allow Pao to do his signature war scream, like a sea creature from the deepest darkness of the ocean, mouth agape.
Funko Pop Vinyls
Funko Pop bobbleheads are incredibly cute. There's not a lot to them – they bobble around, they come in boxes that are cute enough that I almost want to keep them boxed up. They come off their pedestals, too, so we can choose which way we want them to hang out on our shelves.
There will be one whole heck of a lot of these floating around at different stores, exclusives to certain stores, stuff like that.
These Death Trooper and Scarif Sandtrooper Funko Pop bobbleheads are going to be available abundantly for $20 apiece.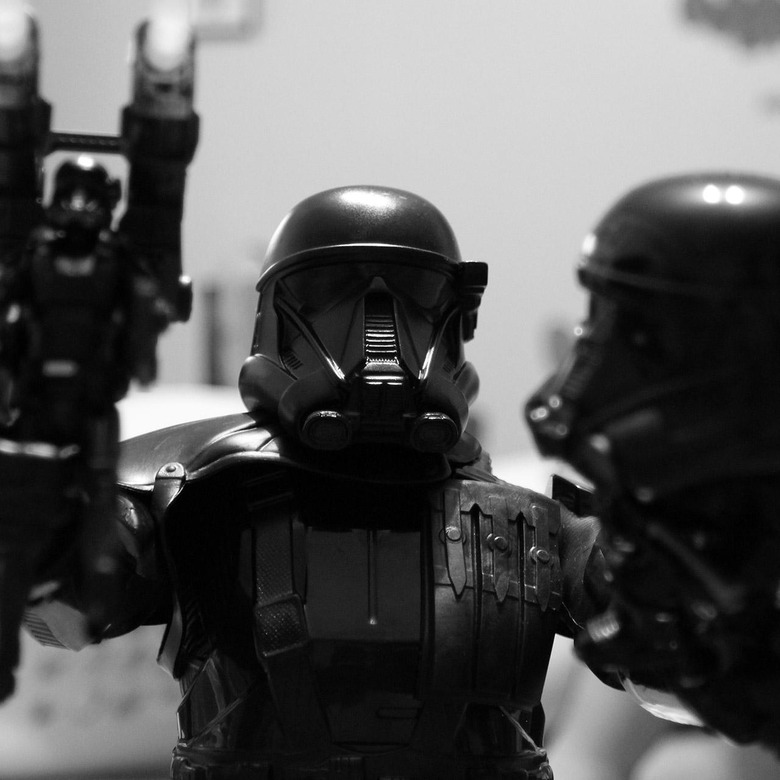 On the 30th of September, 2016 (likely when most readers will be reading this article for the first time), it'll be the first day the first wave of Star Wars Rogue One toys will be available.
It'll also be the first day people can hashtag Go Rogue. Per Disney, "the "Go Rogue" UGC contest is a global short film competition that invites fans to create their own 2-min video stories, skits of shorts set in a galaxy far, far away for a chance to win a trip to Lucasfilm to attend an advance screening of "Rogue One" and see their story on the big screen."
To see what's up, have a peek at StarWars.com's Go Rogue page, and get to downloading.
UPDATE: According to Disney, "Teen and adult fans can find out more and enter the Go Rogue contest at StarWars.com/GoRogue. In the U.S. and parts of Canada, kids ages 8-12 can participate at Disney.com/MyRogueStory, where they also will find a video tutorial and tips to create their own stories."
Also have a peek at one of the most awesome brick-centric Rogue One toys available in our review of Director Krennic's Shuttle (in LEGO form).