Star Wars: Rise of Skywalker film clip: Why 'they fly now', but LEGO doesn't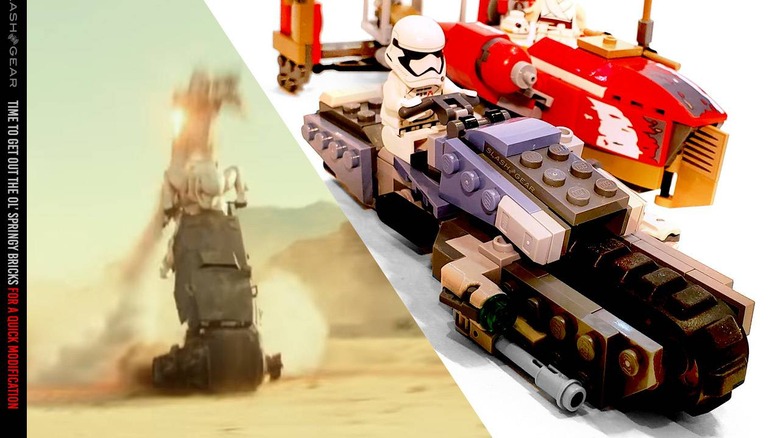 Today we get a glimpse of the next Star Wars movie: The Rise of Skywalker, in a full 30-second clip. This is a clip from the movie- without special cuts or nonsense, as far as we're aware. In the clip we're shown some action that, as we're already fully aware, is also captured soundly in a single LEGO set that's already out in stores. What a strange time to be alive!
Below you'll see this Star Wars: The Rise of Skywalker film clip. This was released by Lucasfilm, Disney, the official Star Wars account on YouTube, and is available for viewing as of this morning. It's very brief, but it's gotten a LOT of chatter in the first few hours since it's been posted. In less than a day, this clip had 1.5-million views.
In the clip you'll see two speeder bikes with tracks – they're basically snowmobiles for sand – with launchers. They've got catapults on their backsides, and they launch stormtroopers into the sky. The stormtroopers fly with rocket packs.
We knew this whole situation was going to happen thanks to the delights of the Pasanna Speeder LEGO set released in October. An important point with this set is the lack of launcher on the speeder. There's a regular speeder pilot trooper, and a rocket trooper, but no... launching... mechanism.
So it's pretty gosh-darned clear here, if I do say so myself, that the promotional team behind this movie took the time to schedule this series of events. First, release LEGO sets that do not ruin the content of the film, nor its secrets. Focus one set on the Pasanna Speeder Chase – but do NOT include the most insane detail from said chase.
The speeder sorta showed up in earlier trailers for the movie, too, but still – what a great opportunity for very, very strange hype. As we're very, very aware, it's entirely possible that this is all planned off-the-cuff, as it was with The Force Awakens.
The best proof we've got of off-the-cuff planning for promotional materials and good for The Force Awakens is the character Costable Zuvio. This was a significant character from the planet Jakku – cut from the film at the last minute. But not before he was included in an official "Journey to The Force Awakens" short story "High Noon on Jakku" by Landry Quinn Walker and was made into at least two action figures. One of them was a Black Series figure – no small feat!
Now who wants to take bets on how much of what we see in the film clip above ends up in the final cut of the movie Star Wars: The Rise of Skywalker, coming to theaters on December 20, 2019?