Star Wars Mandalorian, Skywalker LEGO sets revealed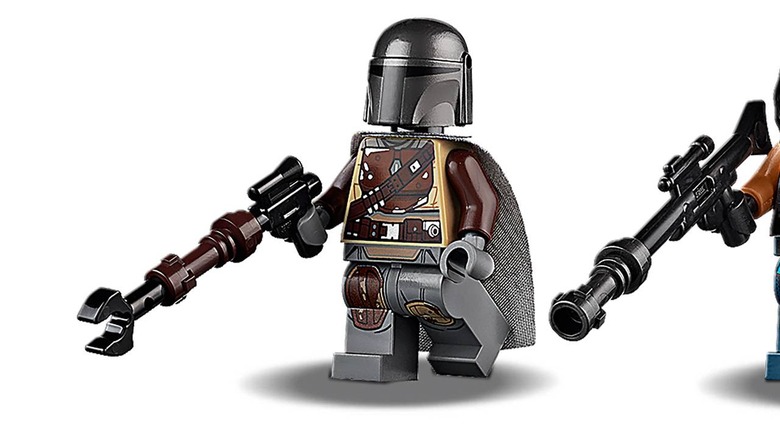 This afternoon the folks at LEGO revealed a handful of new Star Wars LEGO sets from Star Wars: The Rise of Skywalker and The Mandalorian. The former is the new Star Wars movie coming out this December, and the latter is the new live action television show set to debut on the streaming platform Disney+ (Plus). A total of 8 new sets were revealed, containing plenty of details on which to ponder before the release of these new pieces of media.
LEGO revealed a collection of 5 new sets from Star Wars: The Rise of Skywalker. There's one called Pasaana Speeder Chase that they describe as follows: "Escape the First Order with Rey and BB-8 on their transport speeder, which looks like it's really hovering!" Then there are four sets that are, each of them, starships.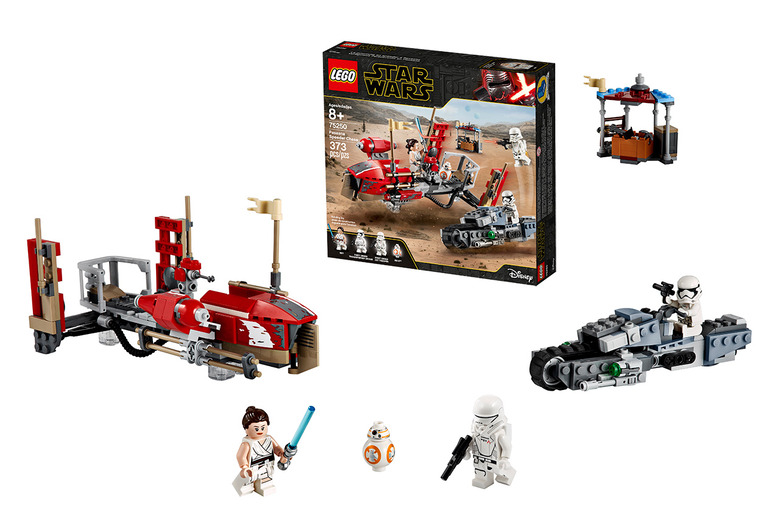 There's a Resistance A-Wing Starfighter that'll come with Snap Wexley and Lieutenant Connix. There'll be a Resistance Y-Wing Starfighter that'll "load up for a bombing run with Zorii Bliss in this Resistance ship and then rescue Poe Dameron, D-O and the Astromech Droid."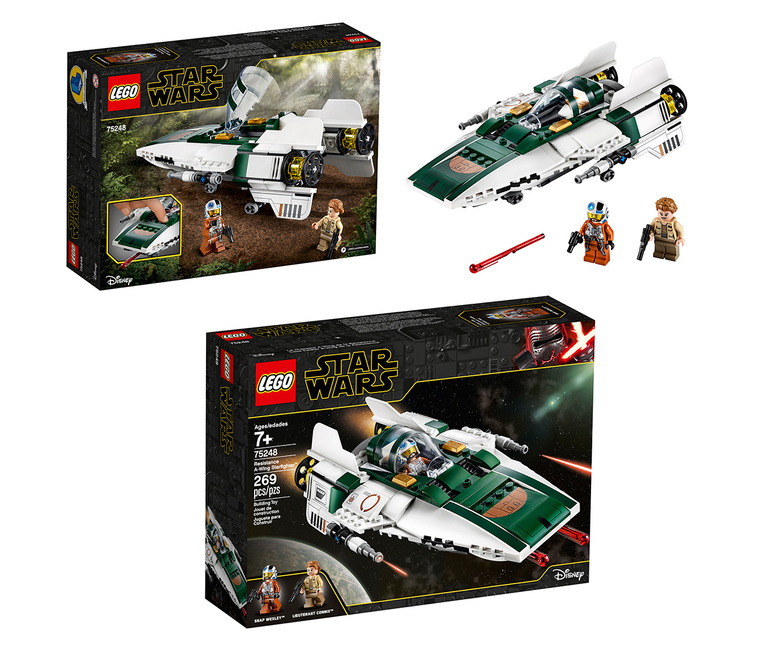 Above you'll see the A-Wing on the box landed on a... planet... that you might've guessed we'll be going to, but isn't mentioned in the copy text for the set. Below you'll see the sleek bright white Y-Wing – and quite possibly the first appearance of a Y-Wing that doesn't just look very purposefully dumpy!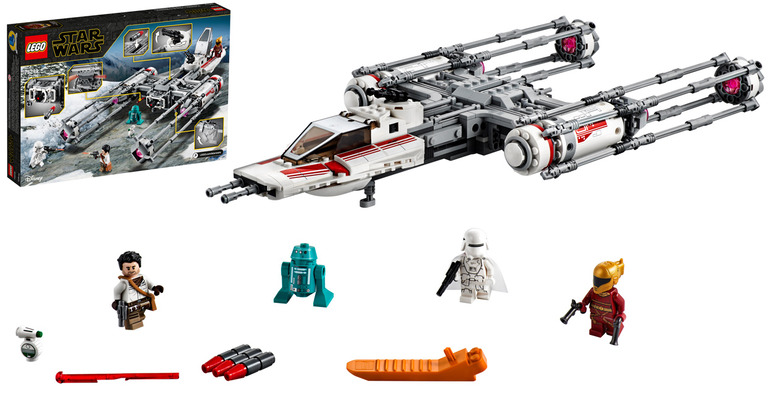 Kylo Ren's Shuttle is what you'd probably expect from such a ship – and the official description only reveals details about the hardware itself. Folding wings and spring-loaded shooters and such. The Millennium Falcon, is similar, giving us a list of minifigures that'll take part in the set: Finn, Chewbacca, Lando Calrissian, Boolio, C-3PO, R2-D2 and D-O.
From The Mandalorian we get a single set, an "AT-ST Raider." This set is described something similar to that of Kylo Ren's ship, just giving away the bare minimum: "stride into action with this iconic Star Wars vehicle that has everything you'd expect, including posable legs and a turning turret with an opening cockpit and firing shooters." The box shows that minifigures include the Mandalorian, Cara Dune, and 2 Klatooinian Raiders.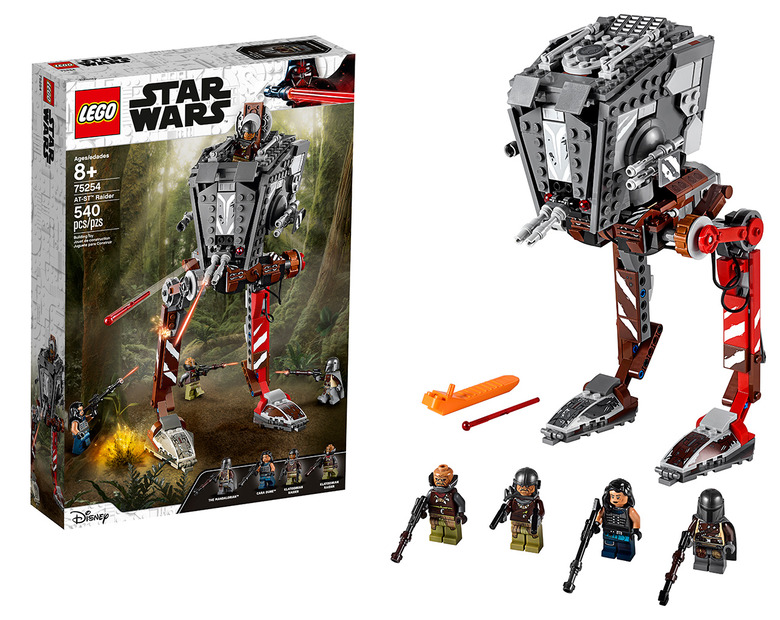 One interesting point in the expanded description for the set is this: "specially decorated elements for a cannibalized look." Looks like we're going all Max Max on this pile of bricks!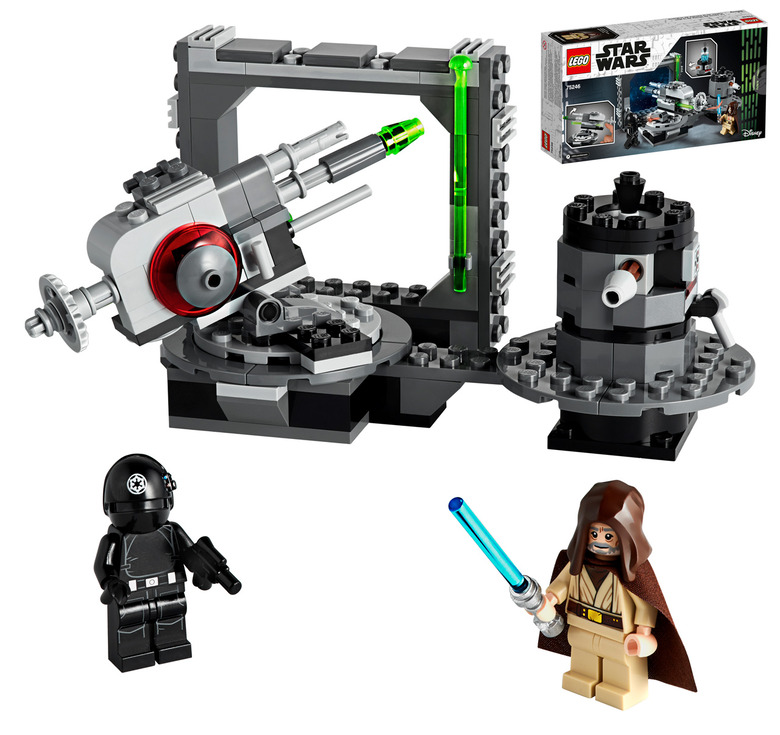 Two "classic Star Wars" sets were revealed today as well, including a Yoda and a Death Star Cannon. The Death Star Cannon is a small set with a single Death Star Gunner and Obi-Wan, the latter with his sneaky deactivation of the shield generator hardware in play. Yoda is a giant set, 1771 bricks in all, with a 16-inch set (including lightsaber) and a tiny Yoda minifigure to boot.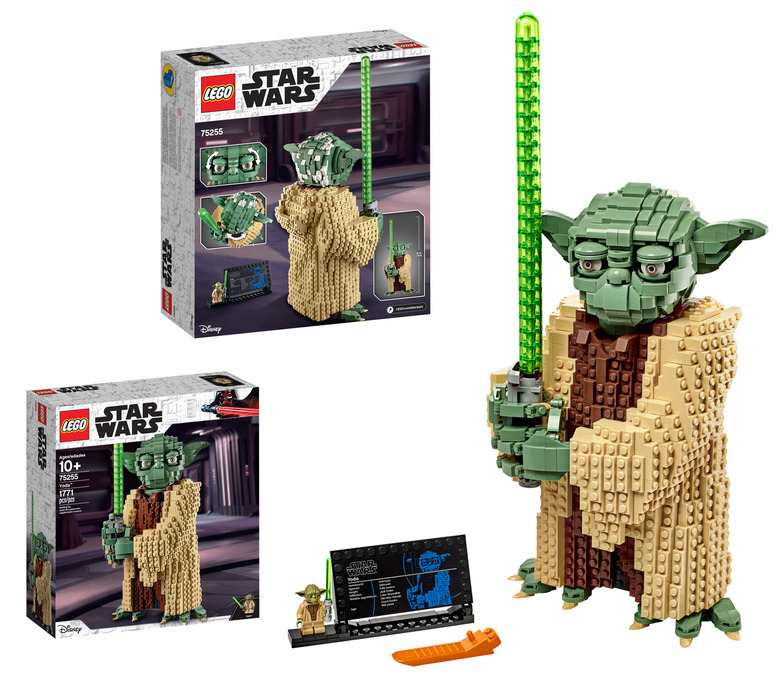 The 8 new sets shown today by the LEGO Group are a range of sizes, anywhere from around the $20 mark all the way up to approximately $160. The A-Wing will cost around $30, Pasaana Speeder Chase is $40, Y-Wing is $70, Kylo Ren's Shuttle is $120, and the newest edition of the Millennium Falcon will cost around $160.
From The Mandalorian we've got the AT-ST Raider set for $50, then the classic set Death Star Cannon will cost $20, and Yoda will ring in at approximately $100 USD. These sets will be available starting on October 4, 2019.