Star Wars Le Creuset cast-iron cookware costs up to $900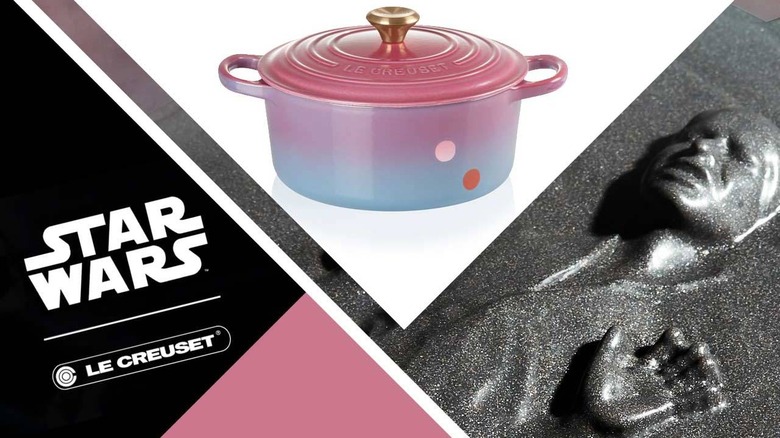 The folks at Le Creuset are one of a wide variety of companies onboard today for Triple Force Friday – a deluge of Star Wars products revealed on October 4, 2019. Le Creuset revealed several high-quality officially licensed Star Wars cookware products the likes of which we'd expect were April Fools Jokes if we didn't know better. One is a Porg, the other has Han Solo frozen in Carbonite, another has Darth Vader on top – they've got a Millennium Falcon and a Death Star, too!
Above and below you'll find the full Le Creuset Star Wars collection revealed for the first time on October 4, 2019. There's a pair of trivets made of silicone in this collection. One has a Millennium Falcon design, the other has a Death Star.
There's a cast iron casserole pot collection (called mini cocottes, here,) made with designs that look like droids. One looks like R2-D2, another looks like C-3PO, and a third looks like BB-8. The designs on these pots are extraordinary in their simplicity – almost like the company didn't want the fact that they cross-branded their products to lower the level of quality in industrial design at which they hold themselves with every other product.
There's a similar situation going on with the Darth Vader round dutch oven. It's all black and sports a Darth Vader helmet on top. Nothing particularly clever about the design on this one – just Darth Vader.
The most obviously excellent piece of cookware in the collection is the Han Solo In Carbonite Signature Roaster. It's black, made with the same metal as every other signature roaster offered by Le Creuset, but it has Han Solo on top. Like the pan itself were the carbonite block in which our hero was frozen in Cloud City on Bespin in The Empire Strikes Back.
There's also a Pie Bird that looks like a Porg. NOTE: The only other Pie Bird that this company offers costs approximately R 110.00, which, converted to USD, is right around $7.31 – that's a deal.
The Le Creuset set of officially licensed Star Wars products will be made available for sale starting on November 1st, 2019. They'll be out on store shelves at select Le Creuset boutique stores, in online shops, and at the shop known as Yuppie Chef. You'll likely find these products priced similar to their non-Star Wars alternatives from Le Creuset – but we shall see!
UPDATE: The most expensive – by a long shot – item in the collection was revealed after the rest – all on its own! This is the Tatooine Round Dutch Oven, hand-painted and limited edition.
This piece of cookware was hand-painted in Le Creuset's French l'Atelier, and it'll only be available in an extremely limited fashion. There'll only be 9 of them made. This piece of hardware will cot approximately $900 USD, and you'll need to hit their website to sign up for the opportunity.