Star Wars: Jedi Challenges adds head-to-head lightsaber duels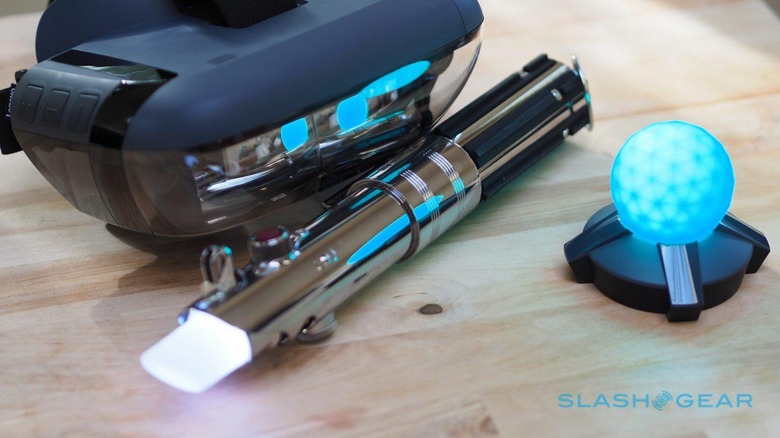 Star Wars: Jedi Challenges is getting the mode fans of the movies have been desperate for, with Lightsaber Versus Mode allowing two AR headset wearers to battle each other. The update, released today somewhat fittingly on May 4th, is the first time two lightsaber-wielding participants have been able to battle in augmented reality.
Lightsaber battles were certainly part of the Star Wars: Jedi Challenges experience when the AR gaming system launched back in November last year. However, at the time it was strictly a one-player affair. Gamers could go up against movie character foes like Darth Vader and Kylo Res, with the movements of their lightsaber tracked in 3D space.
The Jedi Challenges system is one of the more affordable AR gaming platforms we've seen. The headset relies on a smartphone for its display, a similar strategy to phone-based virtual reality headsets like Google's Daydream and Samsung's Gear VR. However, rather than positioning the phone directly in front of the wearer, it slides in flat above their line-of-sight.
Lenses then overlay the graphics on the phone's screen atop the view of the real-world around them. Forward-facing cameras track both the lightsaber controller, meanwhile – modeled on Luke Skywalker's prop from the movies – and a tracking beacon placed on the floor.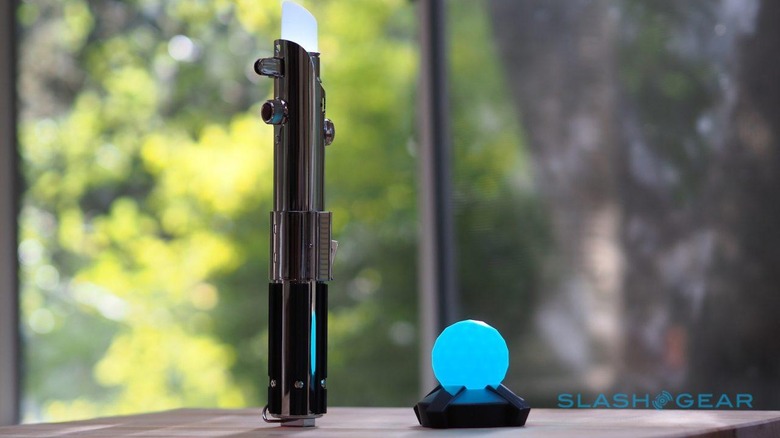 For this Lightsaber Versus Mode update, you'll of course need two Star Wars: Jedi Challenges systems. Each has to be on the same WiFi network, though if you're away from your home router you can turn on the hotspot feature on one of the phones and use that instead. Both of the tracking beacons – each set to a different color – are placed on the floor, and the headsets track not only their own lightsaber and beacon but that of the other player too.
Gameplay is part-guided, part-spontaneous. As with the single-player Lightsaber Battles mode the system launched with, guide lines showing where to strike, where to block, and when to duck float in each player's field of view. The gameplay gets progressively faster and faster, until one player's life force is drained.
Certainly, one of our initial concerns about the Star Wars: Jedi Challenges system back when we reviewed the AR headset was whether Lenovo and Disney would commit to the platform. Driving augmented reality experiences from a smartphone worked well, but $150 – plus the cost of a handset – was a considerable outlay if it was just for the three games the system launched with. With this second significant update bringing a new set of gameplay features, however, those fears have been assuaged somewhat.
You can download the new Star Wars: Jedi Challenges app, with Lightsaber Versus Mode, today. It's available for iOS and Android.