Star Wars goes beyond VR as Magic Leap teams with ILMxLAB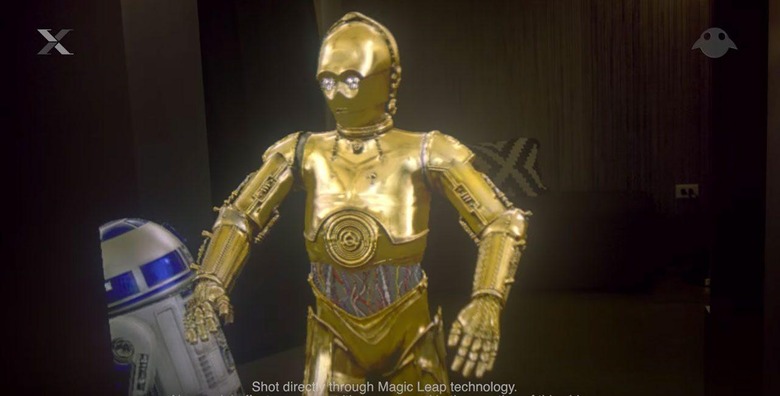 This week the folks at Magic Leap have announced a partnership with ILMxLAB, creating technology that'll mix Star Wars with your real world reality. This is not virtual reality – though that's not out of the question for Star Wars, of course – it's mixed reality. That is augmented reality with the ability to trick your brain into thinking the objects you're seeing are really there. It's beyond what you've seen before – and it has droids, too!
Today at the [Next List] WIRED Business Conference (taking place in New York City), Magic Leap founder Rony Abovitz announced that they're teaming up with the folks at ILMxLAB to bring Star Wars to life. Not that it wasn't alive before, mind you – just that they're bringing the Star Wars universe to a mixed reality near you.
In this first demonstration, you'll be accosted by C-3PO and R2-D2, who have an urgent message about your situation. You might recognize the situation, but you'll be experiencing it from a whole different angle than you've seen it before.
"Might I have a word with you please?"
"I regret to report that due to unforeseen circumstances," continues C-3PO, "we have not yet reached the desired arrangement with Jabba the Hutt regarding Captain Solo's debt."
"An army of stormtroopers is searching for us – It can only be a matter of time before we are blasted into spare parts!"
You'll witness what you didn't get to see in Star Wars: A New Hope – C-3PO and R2-D2 hidden away, speaking to you, a passenger you might not have realized was also about to take off on an adventure with the Millennium Falcon, Han Solo, Obi Wan, Chewbacca, and Luke Skywalker.
While Magic Leap's technology still remains largely under wraps, we've seen several examples of what they may be able to bring to our eyes and ears in the near future. Have a peek at our Magic Leap portal for a history of awesome futuristic visions.
Next we're going to show you another one of Magic Leap's presentations. In this demo, you'll see the company's vision for a mixed reality future. No more computer screens – only real holographic-like objects in 3D space.
Next you'll see a very similar demo, once again shot directly through Magic Leap technology, as the Star Wars demo was above.
Now if only we could get them to bring BB-8 to everyone all at once.
Once we've got everyone in the proper glasses, it'll happen!