Star Wars Battlefront trailer teaser leaked early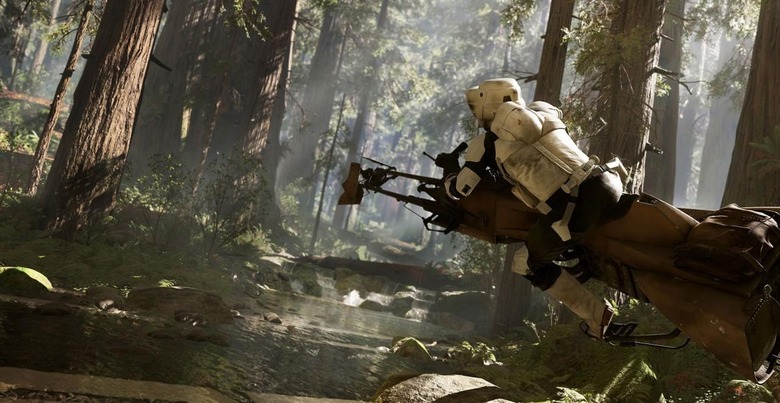 The following is a brief piece of video showing the next Star Wars Battlefront game that'll be revealed in full tomorrow morning. The footage you're about to see was shown in miniature by Lucasfilm at the end of their standard Star Wars teaser trailer 2, also released just this morning. This footage is new – and obviously, since it was so small to begin with, the quality here isn't extremely high. Just remember that going in to this viewing, with an understanding that these pixels are far, far too large for their own good.
Below the teaser you're seeing here, you'll also see the first two bits of video shared by EA Games on the creation of this next Star Wars title. This game is being shown here with what very much appears to be original trilogy action – on the forest moon of Endor, no less.
The full conference and information stream for the game will begin on April 17th – tomorrow – at 10:30 AM Pacific Time. This will include the full trailer for Star Wars Battlefront, a game which will be released this December.
Attendees of Star Wars Celebration will also have the opportunity to see gameplay "behind closed doors" during the show throughout the weekend, starting early Friday. EA suggests that "a few other activities" will be happening as well.
Above and below you'll see the first Star Wars Battlefront spots produced by EA and DICE. DICE is developing the game, and is working with original props and movie bits and pieces to make this game as high quality and legitimate as possible.
Stick around SlashGear for more Star Wars throughout the week. We'll be bringing you Star Wars action from the start of Star Wars Celebration 2015 to the finish!