Star Wars Battlefront III renders leaked by former Free Radical developer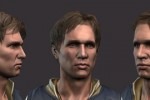 One of the many employees of Time Splitters developer, Free Radical, That were laid off recently as the company underwent administration has posted a few images from his modeling work on Star Wars Battlefront III on his very own personal blog.
Richard Smith posted these pictures and since has had them pulled from his blog. Lucky for us the prowlers on the Internet were able to snatch them up before they were taken down. From the pictures it is easy to see that Smith was working on the concepts for Han Solo and a bounty hunter by the name of Shara.
These images seem way outdated as the y carries not only the game logo, but the year 2007. These 3D images clearly show that Battlefront III has been in development some time before Free Radical ran into trouble. Development of Battlefront III is not rumored to be continuing at UK-based Rebellion.