Star Wars 7 set to highlight Celebration 2015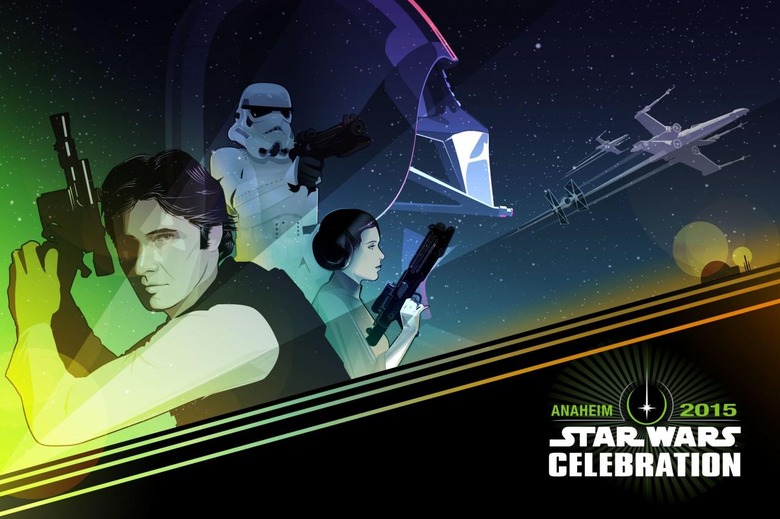 Attendance at Star Wars Celebration 2015 is set to break records as pre-order sales are ramping up. While event organizers have not been allowed to share any information about what they'll be presenting direct from Lucasfilm, you can be sure there'll be goodies from Star Wars The Force Awakens, otherwise known as Star Wars Episode 7. This will also be the first Star Wars Celebration to be held in the United States in several years – since Disney acquired Lucasfilm in 2012, in fact. This convention first started the same year as Star Wars Episode I was released, and ramped up to its highest attendance in 2007 when it took place in Southern California.
The Star Wars Celebration image you see above was given to the LA Times for a first look. What you're seeing is the first full poster for the event – the "official poster" that'll hang over the entire event the duration of the event. Mary Franklin, senior events and fan relations lead for Lucasfilm spoke with the paper, suggesting that they were "way ahead with ticket sales from where we usually are this far out."
Franklin went on to suggest that she "feel(s) safe saying this is going to be the biggest one yet."
Tap the image above for a full-sized version suitable for wallpaper application.
This event will be hosted by James Arnold Taylor. He's also known as a voice actor, doing the voices for Obi-Wan Kenobi in Star Wars: Clone Wars, The Clone Wars, and Rebels. He's also the current voice of Fred Flinstone and Ratchet from Ratchet and Clank.
Star Wars Celebration 2015 will take place April 16th through the 19th in Anaheim at the Anaheim Convention Center, California. Tickets can be purchased in advanced through Star Wars Celebration online.
You'll be able to purchase 4-day tickets for adults for $140 or individual days for between $60 and $75. Child tickets per day are $35 regardless of which day you purchase them for.