Star Trek 3 release date tipped by Spock himself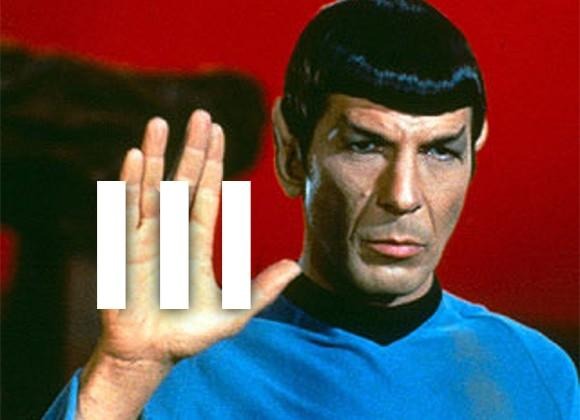 It's not every day you see a character made so inextricably tied to the first actor to play him that he cannot be seen as his human self, but so it is with Leonard Nimoy and his Spock – and he owns it. So much that his "LLAP" following the Twitter update that tips the release date for the next Star Trek movie can basically be taken for gospel truth. That and the double-confirmation (or simple hearty suggestion_ from Star Trek Into Darkness producer Bryan Burk from earlier this year suggesting that the date tipped by Nimoy would, indeed, be an ideal time for the third film (in this new generation) to premiere.
For those of you that are hardcore Star Trek fans, you know exactly what Sept. 8, 2016 means to your chosen devotion. That's the 50th Anniversary of the very first broadcast of the Star Trek television show. Every September 8th, Star Trek fans around the world either head out to their local Star Trek convention to meet with local Trekkies and toss up their Vulcan greetings of good will or simply sit at home for a marathon for several days straight.
Last year Google even got in on the celebration with a cool doodle that integrated the letters of the search giant's logo.
While Nimoy's suggestion may not be as solid a suggestion as one might hope for a cross-breed between a third film and the 50th anniversary of the 60's television show, one thing is certain: on a Golden Anniversary such as this, Starfleet will be out in numbers.