Staples to Start Selling Amazon Kindles This Fall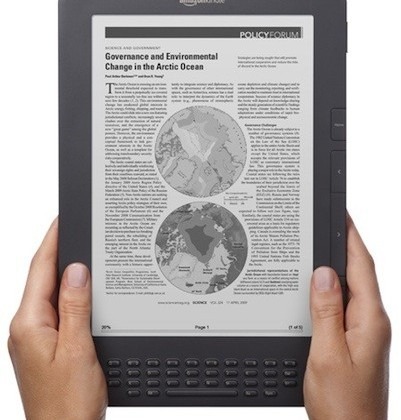 Although Target had a good run to be the only brick-and-mortar retail location to sell Amazon's top-selling Kindle device, it looks like they don't have much longer to shine in the limelight. According to a new announcement from Staples, the nation wide retailer is about ready to start selling the eReader device. And, not just the Kindle, either, but all three of the available models.
Starting this Fall, Staples will officially be carrying all three models of the Kindle line-up. That includes the traditional 3G/WiFi-enabled Kindle, the WiFi-only version, and the larger-than-life Kindle DX. The units will be available in more than 1,550 locations across the country (that means every Staples location, for the record), and you'll be able to grab the devices for the same price that you'd pay online. That means you'll get the WiFi-only model for $139, the 3G-equipped version for $189, and the DX will run you a cold $379.
But, to make sure that you're Kindle doesn't leave the store all alone, you'll also be able to get your hands on a wide assortment of accessories. There's no word on when exactly this will all go down. "Early Fall" is all we get for now. But considering Fall is right around the corner, we probably don't have too long to wait. Unless you're wanting the Kindle DX, which will apparently be available in "late Fall."
Press Release
FRAMINGHAM, Mass.–(BUSINESS WIRE)–Staples, Inc. (NASDAQ: SPLS) announced today plans to offer customers Kindle, Amazon's #1 best-selling, most-wished-for and most-gifted product for two years running. Staples is the only office superstore to carry the wireless reading device in all of its stores nationwide beginning this fall. Interactive displays will allow customers to experience the product before they buy and to learn more about the new generation Kindle which recently launched to rave reviews from the New York Times, Wired, CNET, PC World, PC Magazine, and more.

"We are excited that such a great company and brand as Staples will be offering the new generation Kindle to its customers"

"Staples is not just bringing this incredible product to our 1,550+ US stores, but we are offering customers a chance to discover first-hand Amazon's revolutionary reading device," said Jevin Eagle, executive vice president of merchandising and marketing at Staples. "As part of our efforts to offer customers a wide range of top technology products and services at amazing values, the new Kindle is a natural fit."

Kindle is Amazon.com's best-selling product, a reading device that wirelessly downloads books, magazines, newspapers, blogs, and personal documents to a crisp, high-resolution electronic paper display that looks and reads like real paper, even in bright sunlight. The all-new Kindle has a new electronic-ink screen with 50 percent better contrast, is 21 percent smaller and 15 percent lighter, boasts 20 percent faster page turns, up to one month of battery life with wireless off, double the storage to 3,500 books, and more — all for only $139.

Kindle offers the largest selection of the most popular books people want to read. The Kindle Store now has more than 670,000 books, including New Releases and 107 of 111 New York Times Best Sellers. Over 550,000 of these books are $9.99 or less, including 73 New York Times Best Sellers. Kindle lets you Buy Once, Read Everywhere — on Kindle, Kindle 3G, Kindle DX, iPad, iPod touch, iPhone, Mac, PC, BlackBerry and Android-based devices. Amazon's Whispersync technology syncs your place across devices, so you can pick up where you left off.

Staples will carry the following new Kindle devices:

Kindle ($139.00) – 6" diagonal

Kindle 3G ($189.00) – 6" diagonal

Kindle DX ($379.00) – 9.7" diagonal (available at Staples late fall 2010)

"We are excited that such a great company and brand as Staples will be offering the new generation Kindle to its customers," said Steve Kessel, Senior Vice President, Amazon Kindle. "Staples will be offering its customers a great experience with Kindle — the ability to think of a book and be reading it in less than 60 seconds, read on a screen that is easy on the eyes even in bright sunlight, carry thousands of books with them wherever they go in just 8.5 ounces — all for only $139."

Staples will also carry a full assortment of Kindle accessories. Kindle is part of several new exciting technology products available from Staples in time for the 2010 holiday season. Staples will announce their full line-up of top tech products and other great savings for the season later this fall.

Customers can take advantage of Staples' extensive technology offerings year-round as well. Staples makes buying technology easy as one of the leading retailers of computers, printers, software, ink and toner. In addition, at every U.S. store, Staples EasyTechs provide customers with a wide range of technology services such as new computer set-up, hardware and software installations, data transfer and security, and repair and troubleshooting. Visit www.staples.com/techservices to learn more.

About Staples

Staples, the world's largest office products company, is committed to making it easy for customers to buy a wide range of office products and services. Our broad selection of office supplies, electronics, technology and office furniture as well as business services, including computer repair and copying and printing, helps our customers run their offices efficiently. With 2009 sales of $24 billion and 91,000 associates worldwide, Staples operates in 26 countries throughout North and South America, Europe, Asia and Australia serving businesses of all sizes and consumers. Staples invented the office superstore concept in 1986 and today ranks second worldwide in e-commerce sales. The company is headquartered outside Boston. More information about Staples (Nasdaq: SPLS) is available at www.staples.com/media.