Staples has launched its smart home platform, Staples Connect, bundling third-party sensors, lights, wireless sockets and locks, and more, with a universal control hub that links them together. The $99 Staples Connect hub – which works with Honeywell, Philips hue, Lutron, Yale, GE, First Alert, and other brands of home automation kit – will be sold alone as well as in themed kits, such as for those wanting to take remote control over lighting or security monitoring, with a single iOS and Android app to manage them.
Staples' starter kit will include the Linksys-made hub and a single GE plug-in wireless socket module, for $129.99. The lighting kit, meanwhile, is $199.99, and pairs the hub with a Lutron plug-in lamp module, a Lutron wall dimmer, and a Lutron remote.
Finally, there's the monitoring kit, which includes the hub, an Aeon Labs water sensor, a D-Link IP camera, an EcoLink door/window sensor, and a First Alert smoke and carbon-monoxide alarm. That's the most expensive of the bundles, at $279.99.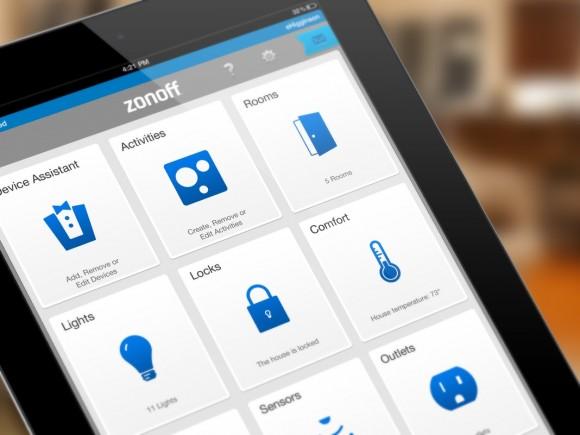 Obviously, each kit is intended to simply be the core of an overall smart home installation, with users adding more components as they extend functionality. Staples' list of supported devices is impressive, too, ranging from the basics like wireless sockets, switches, and movement sensors, through to more unusual gadgets like wireless scales from Withings, and fitness bands like Fitbit Flex.
Update: Staples tells us the original list of supported products it gave us was not currently accurate. We're working on getting a new list; for now, you can see the supported products at Staples' own site.
That broad support – and continued additions to the list – is going to be essential if connected home devices like this are successful. As we saw in our review of Revolv's Hub, there's certainly a place for a single point of harmonized control in among a home automation setup furnished from multiple providers, since it quickly gets tiresome jumping between individual apps for each component.
From the outset, Staples Connect supports more than Revolv, but day-to-day usability is about more than just ticking boxes on a list. We'll have to see how the Staples' system holds up in actual use before knowing if it's the answer to our smarthome prayers.