StandPouch keeps your camera safe and doubles as tripod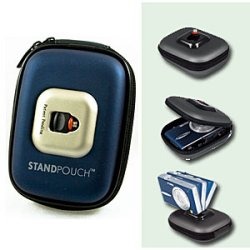 Photography is one of those things that many love but not everyone wants to put the effort into lugging around a bunch of equipment. I actually took a few classes in photography and still only take out a tripod if it is absolutely necessary. This case, although not quite as great as a tripod, still makes things easier.
The case not only houses your camera but also has a spot on the top to screw your camera into. Although you will have to find a flat surface to lay it on, it makes it easier to take pictures set on a timer.
Even if you didn't use it a whole lot, since it doubles as a case you'd have it on you at all times, just in case it became necessary. It is being sold for $13.
[via slipperybrick]