STAAKER is an auto-follow drone with an ironic name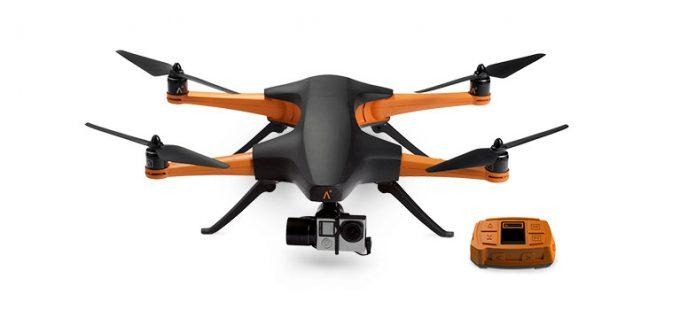 The STAAKER drone follows its user around so long as they wear its heavy-duty smart wristband. This wristband is made to withstand some large amounts of punishment, and the entire setup was made for hardcore x-games-type athletes to record themselves performing fabulous stunts. This drone is able to travel 50 MPH (80 KMH), so it'll relatively easily be able to keep up with even the fastest of enthusiast-level downhill snowboarders.
STAAKER was built to work with a GoPro camera. This first model drone STAAKER makes is compatible with GoPro Hero 3, Hero 3+, and Hero 4. The drone carries a GoPro camera with a 3-axis brushless motor gimbal for stabilization.
This drone works with an easy-to-swap battery setup so users can bring more than one battery along on a trip outdoors and change when one battery dies and the next is needed. Better that than having to back to the shack each time a 30 minutes is up. This drone has a 30-minute flight time, by the way.
Both the drone and the armband are "weatherproof" – the company suggests they are IP44 splash proof and have operating temperatures of -20 C / -4 F To 40 C / 104 F. The STAAKER drone can withstand winds up to 30 kmh / 20 mph.
The dimensions of this drone whilst folded up are Width: 200 mm x Length: 340 mm x Height: 110 mm, while a folded-out drone is Width: 440 mm x Length: 340 mm x Height: 150 mm. Most of the size difference is in the width, as the propeller arms fold in and out.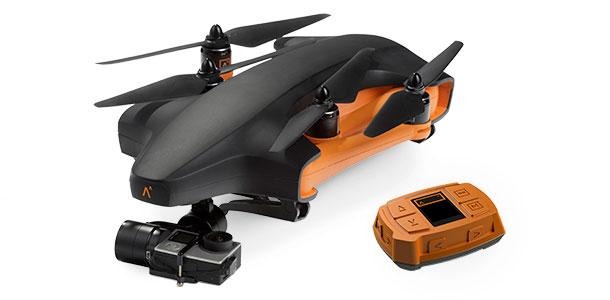 The maximum distance this drone can fly is 50 m / 165 ft, while maximum altitude is 50 m / 165 ft above the tracker.
On the name – according to TechCrunch's chat with STAAKER's Norwegian CEO Ole Jørgen Seeland, the brand is probably best pronounced "stalker" as that's what it sounds like when the word "STAAKER" is spoken in Norwegian – the crew is from Norway.
"We know we can deliver," said Seeland, speaking about previous similar projects made by other companies. "Our drone will be manufactured by Foxconn. We figured if it's good enough for Apple, it's good enough for us, too."
STAAKER is up for pre-order now starting at $1,195 USD – they suggest that this will be $650 USD less than final retail price.
ABOVE: Example showing "Circle" mode on the STAAKER drone. BELOW: "Follow" mode.